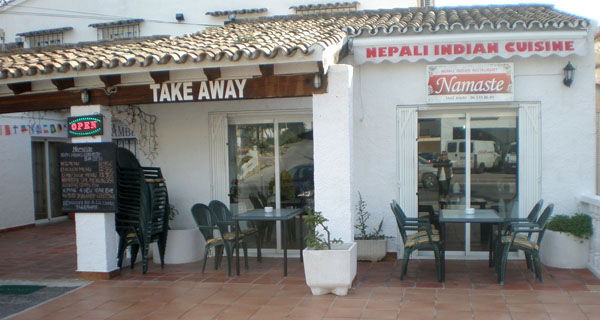 NAMASTE means "greetings" throughout south eastern Asia, including Nepal.  And that is precisely what you´ll get when you enter this friendly restaurant on the coast road to Moraira near Pepe La Sal.  It should be in India or Nepal, but amazingly, and luckily for us,  it is right here.
It´s owners are the Jaisee (pronounced JC) brothers, who come from a town about 250km from Kathmandu called Lumbini, home of the world famous Golden Buddah statue.
They left Nepal after working in restaurants there and together went to New Delhi where they worked in a five star hotel restaurant, and now with 15 years experience behind them, they are in Moraira.
Why is Namaste so special?  The small kitchen gleams, Dinnath the younger brother and chef invited me in with pride as he mixed the dough for fresh naan bread, before slapping it into the real clay tandoori oven.
All the spices are brought whole and ground down fresh in the kitchens making their flavour amazing.
A tandoor in Urdu means a clay oven, and that´s where we get the word tandoori from.  It makes the flavour of the chicken really special.
As well as the hospitality and fresh spices and herbs, Namaste serves all your favourite curries and its own unique Nepalese specialties, for instance, Golden Prawn Curry, made with fresh mango, saffron, cumin and freshly ground aromatic spices, or Lamb Solukhumbu, lamb tikka served with fresh mushrooms, aromatic herbs and served in a Nepalese style curry sauce, it´s mouth watering.
There are nine more Nepali speciality main dishes to choose from as well!
Open seven days a week, midday – 3.30pm, 6.00pm – 11.30pm.  Five Course menus starting from €10.95 and plenty of special meal deals.  Plus a 10per cent discount for a la carte takeaway.
As an added bonus, there is private parking and terracing.
Carretera Calpe-Moraira 251, Opp Pepe La Sal.  96 574 8649 / 677 833 668