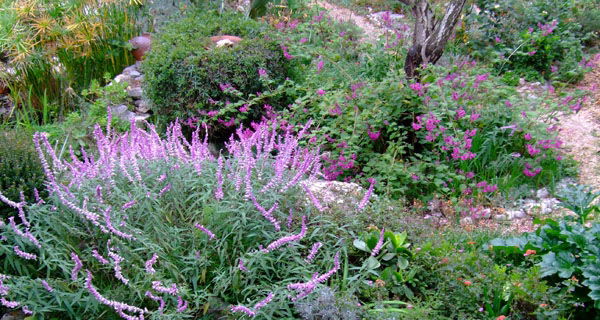 LOOKING back on the year's gardening it has been a challenge in a number of ways.
Perhaps, after the disastrous frost year of 2005 when many gardens and garden centres lost many plants, it was the most challenging since starting to experience Spanish gardening in the mid 1970's and having our own property since the mid 1980's.
Climatic challenges
THE three climatic challenges have been the very long dry spell from winter to autumn, the sharp but not long night frosts of February/ March and the heavy autumn rains experienced not only in Spain but in other European Mediterranean countries.
These have highlighted the common sense of ensuring that ones main plantings are both drought and frost resistant, something we went out of our way to assess and indicate in the plant lists/descriptions included in both Your Garden in Spain and Apartment Gardening Mediterranean Style. Also make sure that all steps are taken to reduce the amount of water required to sustain an attractive and productive garden, and that rainfall is collected and efficiently distributed.
Since such issues are often insufficiently recognised and acted upon we wrote the idea packed booklet Making Waterless Gardens A Practical Reality Worldwide to supplement our major books.  This is published as an Amazon Kindle E-book and as a limited hard copy edition made available at talks such as the Costa Blanca Gardeners Circle on February 6, HomesGardens and Lifestyle Show in Algorfa on the May 29/30 and the Axarquia Garden Club on  June 11.
Coaching plants to dig deep
THE long dry conditions have been ideal for coaching plants to put down deep roots into the soil.  Often in Spain that is down through layers of rocky soil, to search for and extract residual moisture and natural nutrients, rather than being trained to expect and be spoilt by daily shallow watering and sometimes daily or weekly feeds from drip irrigation systems.
Many areas of our established garden were not watered all summer and others only when plants showed signs of stress. But to do the latter one needs to walk the garden every third day, which is not possible if you depart for cooler climes during the hot months or all your gardening is done by a paid gardener.
We could have watered even less than we did if it was not for conserving an area of autumn flowering sages which this year have been exceptional after the autumn rains. They have been enjoyed whenever we wander around the garden or look out from the kitchen window as illustrated in the photo taken on Christmas day.
Let nature take its course
THE year has been marked by the need to do what gardening is essential and let the rest follow nature. In the second half of one's seventies one realises that it is time to accept the garden as it is, not plan major changes or replanting.  Adapt the garden to accept and integrate the free and unexpected plants created by the unplanned germination of bird dropped and wind-blown seeds.
Interestingly most can be incorporated into the garden and not looked on as weeds.  A splendid variety of plums came that way as did a clump of acanthus and two metre high blue flowered echiums.
As emphasised several times in our writings, good mulching is essential reducing the time spent watering and weeding.  A  good mulch should be five to ten centimetres thick whether home-made compost, stone chippings or bark chippings.  A light covering of bark over woven plastic sheeting will do little as it is washed into heaps by rain leaving patches of bare plastic which look unsightly as well as being ineffective.
There are more than twenty nine forms of effective mulching described in
Making Waterless Gardening a Practical Reality Worldwide.
The Zeniscaping experience
AS well as concentrating on maximising Xeriscaping practices in our garden I have undergone a long six month series of visits to the Zen Dental Clinic in Denia to rebuild my teeth via what I termed Zeniscaping.
It was either that to look respectable for talks, or end up in the olive grove like a village yokel with many gaps and a couple of artificial gold crowns.
I mention this experience as it was not unlike designing a new garden but planting deep rooted artificial teeth rather than deep rooted plants.
The painstaking preparation for new teeth was not unlike the need to prepare soils if you want new plants to be a success. And the choice of teeth, like plants, is vital to create pleasing individual and integrated effects. If one takes short cuts in both cases the plantings may need remedial care or replacement within a few years.
Thanks Caroline for the new look for the New Year.
Happy New Year and Los Reyes. We will discuss possible New Year gardening resolutions next week and the one after the winter cutback.
(c) Dick Handscombe www.gardenspain.com December 2012