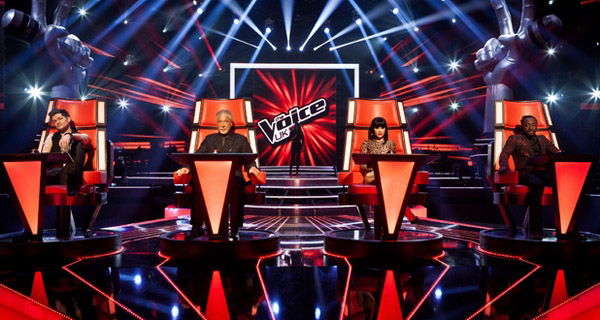 Jessie J, will.i.am, Danny O'Donoghue and Sir Tom Jones have kicked off filming on the second series of The Voice UK. The BBC's official Twitter account has started teasing behind-the-scenes details from the first auditions, which are taking place at Manchester's MediaCityUK. "This week, filming begins on #TheVoiceUK series 2. We'll be tweeting from tomorrow so please clear your diaries and unfollow everybody else," the BBC account revealed. It added: "So it's Day 1 of filming. It's like the first day back at school but with quadruple superstars instead of double geography. #TheVoiceUK" BBC boss Danny Cohen recently confirmed that the show's second run would have "less live shows" and "more blind auditions and battle rounds". The first series of the talent show was the BBC's biggest new entertainment series on record, averaging 9.2million. In the early audition shows, it overtook Simon Cowell's Britain's Got Talent in the ratings, before figures began to slide in the latter rounds. Leanne Mitchell, coached by Sir Tom Jones, was crowned the winner of the first series and bagged a record contract with Universal. The Voice UK will return to screens in the New
Joey Essex has reportedly signed up for new celebrity diving show Splash! The TOWIE star is one of 15 famous faces who will be taught to dive by mentor and Olympic diver Tom Daley. A panel of expert judges will score the celebrities and viewers will vote for their favourite to determine who is crowned top diver. "Joey Essex has a passion for wearing strange clothes so everyone is already waiting for the first show to find out what kind of trunks or Speedos he will be wearing on that diving board," a source told the Daily Star. "He will no doubt be out to shock everyone." Kate Price's ex-fiancé Leandro Penna and former Olympic skier Eddie 'The Eagle' Edwards are also said to be taking part. Splash! will start in the New Year on ITV1 and will run for five weeks.
Simon Cowell has officially confirmed that he will be returning for the 2013 series of Britain's Got Talent. David Walliams, Amanda Holden, Alesha Dixon and hosts Ant & Dec will also be back to find a new British variety star. "I loved doing the show last year, the new panel worked really well and I'm very happy they have all agreed to come back," said Cowell.  "Last year was a special year for talent and I hope that in 2013, off the back of an amazing year for Britain, we find another global star." Comic star and fellow judge Walliams joked: "My Simon and I are going to be together again. I'm delighted to confirm I will be a judge on Britain's Got Talent again next year. I am so happy I could cry." Ashleigh and Pudsey became the first animal act to win the ITV talent show last year and have gone on to become stars around the world, appearing on The Tonight Show with Jay Leno, starring in panto together and even releasing their own 'autobiography'. Host Dec said: "Simon was the happiest I have ever seen him when Ashleigh and Pudsey won! I'm not sure we'll ever see him as happy again – so that's the challenge Great Britain, show us what you've got!" Ant joked: "You think you've seen it all then a man with a saucepan on his head turns up! We can't wait to see who or what turns up this time." Last year's series also produced opera duo Jonathan & Charlotte, male choir Only Boys Aloud and pop trio Loveable Rogues, who are currently finishing their debut album. The show is open to acts of any age, background or talent and the main auditions start in January. The panel will visit Cardiff, London, Glasgow, Manchester and Birmingham to find the UK's next big superstar. A new twist to this year's show is that members of the public can act as 'Star Scouts' and recommend unsigned talent for the show. If a Star Scout finds the winning act, they will be given £10,000. Britain's Got Talent will return to screens in the spring.
If you would like me to answer any questions you may have on satellite TV or to expand on anything I have written about please call me on 678 332 815 or email on  [email protected] I look forward to your comments and questions. Don't forget to listen to my radio show every weekday from 10am on Spectrum Radio (90.8fm), or listen online at costaalmeria.spectrumfm.net for the latest news and views from the world of satellite television.