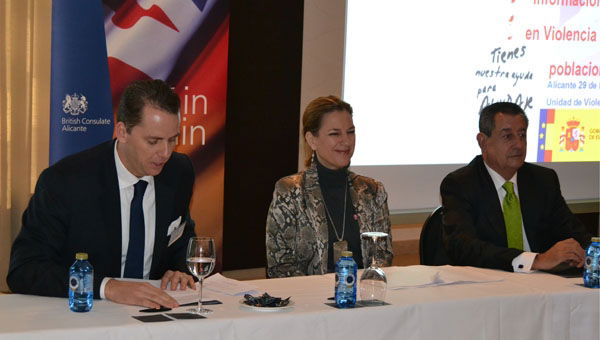 BRITISH residents and tourists in Alicante should take a zero tolerance approach to domestic violence.
This has been spelled out following revelations that 198 British women domestic violence sufferers in the province are currently receiving police support.
Around 30 per cent of all British national arrests in the Alicante Consular district last year were related to such violence.
The local British Consulate and the Spanish authorities have now joined forces to help eliminate any stigma around the issue and to ensure local English-speaking families understand what support is available.
First objective of a conference at the AC Hotel in Alicante was to reveal that the authorities take a zero tolerance approach, and to ensure that British residents and tourists take the same attitude. 
"We are fortunate Spain takes this kind of crime very seriously and I am impressed with the support available," said British Consul Paul Rodwell who opened the conference.
He was joined on stage by the Government Delegate in Valencia, Paula Sanchez de Leon Guardiola, and Alberto Martinez, Government Sub-Delegate in Alicante.
Addressing domestic violence support group representatives, British associations plus provincial court and Alicante national police heads, Mr Rodwell stressed that "we are not here to duplicate the system, but  to learn from them and give signposts of what the system is."
Associations and groups present along with the authorities help strengthens the importance of this worrying trend where there are no rules as to who gender violence can happen to, he added.
Women who feel in danger should call the emergency services 112 helpline or the national domestic violence hotline 016.
Local social services provide advice and support and the Generalitat Valenciana has 24-hour Women's Centres that can be contacted on 900 58 08 88.
The British Consulate also offers help. For more information: www.ukinspain.fco.gov.uk