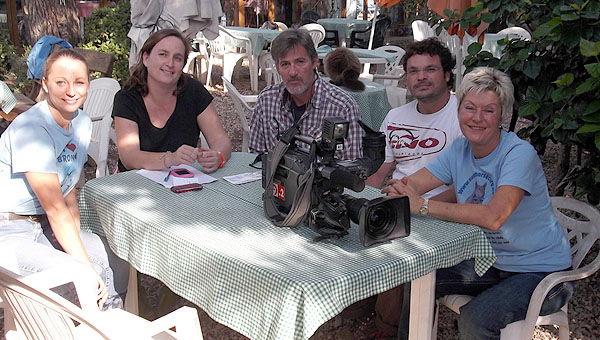 THE Easy Horse Care Rescue Centre (EHCRC) in Rojales is to feature on Spanish prime time television.  A crew from Canal 9's top rated television show, Guamipi, arrived at the centre to learn more about the work the team do in rescuing and caring for abandoned and neglected horses, ponies and donkeys.
Speaking after filming, presenter Ana Biosca Albalat said she was amazed at the work they were doing and had never heard of the rescue centre. But that will change once the show airs as it is the most popular programme on Canal 9. 
Easy Horse Care will soon feature in a 5-10 minute segment of the half hour Sunday night show. "It is just fantastic and will raise our profile," said Sue Weeding, co-founder of EHCRC. "We have always worked with the Spanish and had a lot of help from them and the local councils, so to be recognised and featured on such a big show can only help in our cause," she added.
"The crew are all animal lovers and we got on exceptionally well with them. They had no idea of what happens and the state of the horses we rescue. This is what we must do, highlight the problems, but not criticise."
Canal 9 was first made aware of the Rescue Centre by the San Vicente Veterinary Hospital in Alicante. They work closely with the charity and even share the same farrier and thought it was important to feature them.