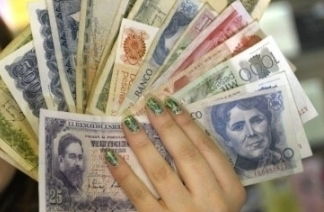 AS tradition demands, La Nucia used pesetas in its traditional San Rafael auction.
One of the highpoints of the fiestas is the procession through the town's streets, with a statue of San Rafael held aloft by bearers. The honour of carrying the float, or the ribbons attached to it, during the parade is auctioned to the highest bidder.
The custom goes back 200 years and was probably introduced to raise money for the parish, local historians believe.
Even after the euro was introduced in 2002, bids continued to be made in pesetas.  And there are obviously still large amounts of the old currency around, as this year's auction raised 553,000 pesetas (€3,300).