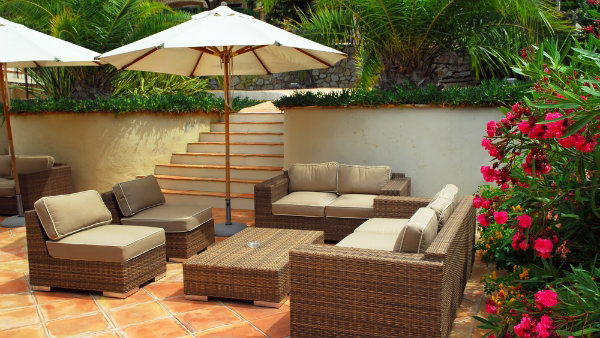 PATIO gardens have been popular in Spain and other Mediterranean countries for two millennium and continue to be so today.
For many people living in the historic centres of towns and villages patio gardens are the only outdoor living space they have.
Although many people think patios are something only found in Andalucia they exist nationwide.
True traditional patios are roofless inner living spaces in the centre of traditional style Spanish and Spanish American houses. However, although not everyone will have the real thing, the design ideas that follow can be used to create patio style terraces, courtyards and yards on one side or around terraced or detached houses.
They can also be used within walled or high hedged secluded gardens anywhere within a larger garden.
Finally, as described in our book `Apartment Gardening Mediterranean Style´, roof top terraces can be designed and developed as attractive and productive patio gardens.
Some ingredients for successful patios
• They can be developed as a centre of family life or for the young partying life.
• Natural shade being better than canvas sails or awnings, trees are typically planted in the centre or in one or more corners. Popular trees include palms, cordylines, rubber trees, figs, olives, bird of paradise tree, jacaranda, citrus, judas and trained galan de noche. Climbers over wires and beams are also used including roses grape vines, bignonias and passion flowers. However if your patio becomes an oven in July or August a motorised awning may be essential to provide shade from the midday sun. Details of these trees and others for patios will be found in 'Your Garden in Spain'.
• Colourful and perfumed walls can be created using a combination of trailing plants such as petunias and geraniums in window boxes and climbers such as jasmine, passion flower, honeysuckle, clematis, plumbago, roses and bougainvilleas in containers or planted directly in the ground. In many cases plants are supplemented by tasteful displays of plates, plaques, murals and memorabilia.
• Cool evergreen plants should be planted in shady corners not reached even by the high midday sun beaming down into deep patios. Plants often used are ferns, aspidistras, spider plants, pothos, mother-in-laws tongue, bread plants, spathiphyllum, succulents, bamboos and bonsais of various types.
• Collections of flowering plants can be put in containers. Bulbs such as clivias, cyclamens, amaryllis, freesias, irises, lilies, talbagias and agapanthas. Others such as kalanchoa, begonias, fuscias, pansies, bussy lizzies, azaleas, hydrangeas and water lilies can go in a pond.
• Containers for growing a small collection of herbs, fruit and vegetables should be used as long as there is sufficient light. See the mini growing chapters of 'Growing Healthy Vegetables in Spain' and the three dedicated chapters in 'Apartment Gardening Mediterranean Style.'
• Light music of your choice for relaxing. For an Andalucian style ambience quietly played guitar or flamenco music.
• The sound of water, for instance fountains in the centre of ponds, against walls, in corners, or stand alone. These days there are also numerous types of water features available.
• Small birds, fish and terrapins can add interest.
• Comfortable and stylish furniture chosen to match the style of the overall patio design. Iron, wood, wicker, bamboo, plastic are all possible. Perhaps swing seats and sky chairs. Screens and large plants can be used to create private corners.
• Interesting artefacts such a collection of ceramic pots or agricultural implements can be used.
• Subtle lighting, perhaps a mix of spots, wall lights and standard lamps designed for external use as rain will certainly fall into the patio well at times.
• Stone slabs, terracotta tiles, glazed tiles and stone chippings can look attractive.
This week's article is an extract from our book 'Your Garden in Spain – From planning to planting and maintenance.
(c) Clodagh and Dick Handscombe www.gardenspain.com november2012