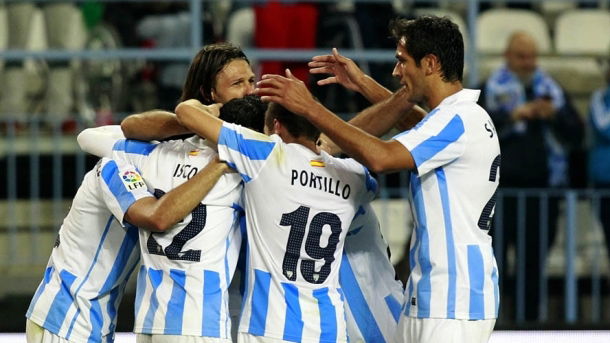 Málaga CF played a well-rounded match against a direct rival for European positions in the BBVA League, Valencia CF. Goals from Portillo, Saviola, Santa Cruz and Isco saw Manuel Pellegrini's men return to League victory, in an unforgettable tribute to Sebastián Viberti who passed away today.
Pellegrini's men had barely left the locker room before their steely determination to win this match was evident.  Within the first few minutes of play, the Blue and Whites were circling around the penalty area, leading to an early goal for Portillo in the 8th minute, impossible for goalkeeper, Diego Alves to prevent.  Portillo took advantage of a great ball from Eliseu to open up the scoring.
Málaga showed an impressive style of play in the first half, with first class football from Isco, Portillo, Joaquín and Saviola, who all created further goal chances, and continued to pile the pressure on Valencia.
The visitors tried to locate Willy Caballero's goal, but were unable to penetrate the Málaga defence. A pass from Saviola shortly before half time gave Joaquín a chance to score the second goal, which resulted in an important save for Valencia keeper, Diego Alves. 
The second half got underway in much the same way as the first.  Good play by Joaquín to Saviola led to another goal opportunity for the home side, however an impressive save by Alves prevented a second Málaga goal and resulted in a corner kick.
In the 55th minute Joaquín again set up a promising ball for Saviola, who had a shot at goal, though the ball deflected off the right goalpost.
From this point on, Valencia tried to gain possession and relieve the Málaga pressure which had been so dominant throughout the match so far.  However the home side continued to create goal opportunities and lead the counter attack.  A powerful shot at goal by Joaquín only just missed the target.
Just as Valencia were trying to make things more difficult for the home team, Portillo set up a great chance for Saviola from directly in front of the goal, who smashed the ball into the back of the net.  The Blue and Whites were now 2-0 up mid-way through the second half.
Málaga weren't planning to stop there.  Only minutes after Roque Santa Cruz went out on the pitch, a pass from Gámez on the right wing allowed Santa Cruz to put the hosts 3-0 in the lead.  Valencia's fate was practically sealed after this third goal with just eight minutes left of normal time to go.
The three substitutes, Santa Cruz, Seba and Buonanotte, set up a magical shot for Isco, who curled the ball into the back of the net, leaving no chance for Diego Alves.  Only minutes earlier a Valdez header was the first real goal opportunity for Valencia, but scoring wasn't on the cards for the visitors tonight.
 
Málaga have returned to winning ways at La Rosaleda, following two consecutive home defeats, against a direct rival for European positions next season.  The Blue and Whites continue on in the quest to maintain a top League place, and without doubt, tonight's match was the perfect tribute for Sebastián Humberto Viberti.
Match stats
MÁLAGA CF: Willy, Jesús Gámez, Weligton, Demichelis, Camacho, Joaquín (Santa Cruz, min. 77), Toulalan (Buonanotte, min. 88), Saviola (Seba. Min. 83), Eliseu, Portillo and Isco.
VALENCIA CF: Diego Alves, Cissokho, Rami, Gago, Feghouli, Banega (Jonas, min. 54), Barragán, Valdez, Guardado (Piatti, min, 68), R. Costa and Tino Costa (Parejo, min. 77).
GOALS:
1-0: Portillo (min. 8).
2-0: Saviola (min. 75).
3-0: Santa Cruz (min. 81).
4-0: Isco (min. 91).
REFEREE: Muñiz Fernández.  Yellow cards were awarded to Guardado (min. 10), Banega (min. 28), Gago (min. 39), Joaquín (min. 58), Feghouli (min. 62), Weligton (min. 63), Tino Costa (min. 72).  Rami was sent off for two yellow cards (min. 73 y min. 83)
INFORMATION:  13th BBVA League match held at La Rosaleda, in front of 25,607 fans.  A minute's silence was held for ex-Málaga player, Sebastián Humberto Viberti, one of the most well-known footballers in the history of Málaga.