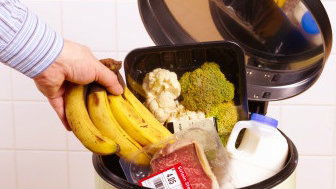 EACH Valencian Community resident throws away an estimated 60 kilos of food worth €240 every year.
The annual cost of throwing out food still fit for consumption is said to be €1,225 million. Despite these hefty figures, revealed in the UN's Save Food report, Valencia is not the worst of the six Spanish regions studied for the investigation.
It had the second-lowest percentage of avoidable food waste, throwing away 7.2 per cent of purchases. Only Catalonia, famed inside Spain for its frugality, throws less food into the rubbish bin with 6.21 per cent. 
Biggest wasters are Andalucia, which throws away 10.37 per cent of food bought, followed by Madrid (8.09 per cent), Galicia (7.67 per cent) and the Basque Region (7.71 per cent).