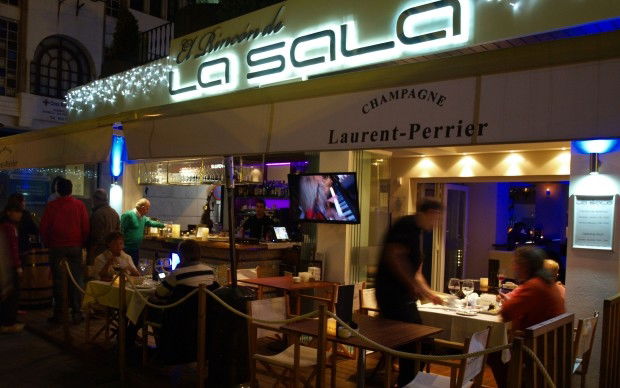 BRITISH essayist Virginia Woolf once said "One cannot think well, love well, sleep well, if one has not dined well." With this in mind, Euro Weekly News reporters Laura Jane-Bruce and Nicole Hallett joined a banquet at El Rincón de La Sala, a new San Pedro restaurant making a name for itself.
---
PLAYING to a full house many nights of the week, the new bistro, which attracted more than 1,000 people to its inauguration, definitely provides food for thought. The latest addition to Sala Group, El Rincón, a cosmopolitan eatery, caters for international and Spanish clientele.
We were seated in direct view of the open-plan kitchen, where chefs busily worked to create our ten-course feast.
To commence, a selection of tasty tapas style dishes from the sharing bites menu.
While regulars of sister establishment La Sala will recognize elements of the popular hotspot, El Rincón offers a traditional Spanish atmosphere and menu with local and seasonal delights.
First, cod fritters with tomato, nuts and a garlic sauce, perfect bite-sized mouthfuls, leaving us fighting over who could devour the spare.
From the €12.95 two-course menu del dia, altered weekly, available from 1pm until 4pm, Asian prawn toast with coriander and a sweet chilli dipping sauce.
Back to the sharing bites menu; smooth homemade Iberian ham croquettes, "just like Grandma makes them" General Manager Miguel Angel Mena Castillo informed, enhancing the home-style feel.
Deep fried boquerones followed, presented in an authentic newspaper cone, marinated in lime and lemon and an alioli.
The grilled green asparagus with poached egg and hollandaise sauce was a favourite; the yolk oozing over the crunchy vegetables and the creamy sauce bringing the flavours together.
Another special of the day; seasonal earthy mushrooms, grilled with garlic and parsley, and crunchy bok choy, a welcome balance of textures.
More dishes ensued, tempura prawn bites with a sweet plum dipping sauce and fillet of sea bass with mushrooms, asparagus and a goat cheese risotto. This, our eighth dish, sought to defeat us, but the tangy goat cheese risotto and the soft lubina ensured we virtually licked the plate clean.
A sharing platter for two followed, the La Sala House Special; a tender rib of beef, originating from Galicia, famed for its lush grass, cooked with smoky black salt and served with savoury potatoes and vegetables.
Our final plate, a crunchy banana split served with a toffee sauce and yoghurt ice cream. The contrast of the sweet jus and the Greek style ice cream married wonderfully with the crisp coating enveloping the smooth warm banana inside.
The general manager has worked in the hospitality industry since he was 14-years-old. Speaking of El Rincón, "The food is exceptional, and the ambience like no other. Few places offer dining, drinking and live music without stepping out the door. We aim to create a mini holiday experience when people enter, no matter how long their stay."
Head Chef Manuel de La Chica Malpica, involved from the beginning in designing El Rincón's menu, has previously worked in high-end establishments including the Puente Romano Hotel and Alberto & Simon in San Pedro. Customers can expect "an innovative menu of Spanish specialities," he explained; his cooking "creative with an emphasis on quality." 
La Sala, El Rincón and Aqwa Mist offer an array of festive treats throughout the yuletide season. Dining options for the Christmas period, including lunch and dinner on December 24 and 25, are available at great prices. New Year's Eve in La Sala has been sold out for months, with reservations arising for the 2013 festivity, but tickets for El Rincón and Aqwa Mist are available, promising to mirror the quality, excellence and vibrancy of the Sala Group brand.
El Rincón is the latest addition to Sala Group, the coast's most recent success story. Over the past three years, they have debuted La Sala Restaurant, projected Sala Beach into the limelight and revealed Costa del Sol's first super-club Aqwa Mist.
---
TEAMWORK: Third from left, Head Chef Manuel, and the El Rincón staff
---
El Rincón de La Sala
Calle Marqués del Duero, San Pedro de Alcántara
951 506 249
www.salagroupholdings.com
---
 MIXING IT UP: Chef Manuel de la Chica Malpica and General Manager Miguel Angel Mena Castillo.