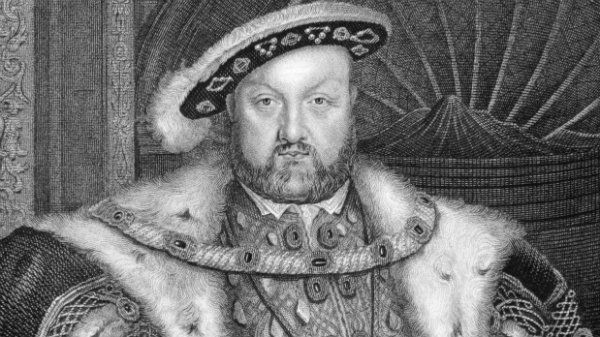 HENRY VIII was a tyrant.
Grossly overweight with bad breath and a foul smelling wound on his leg; at the age of 48, convinced that he was still the handsome prince of his youth, he took a wife of barely 16 and then had her executed. During the last years of his reign, England lived in fear of his whims, for the whim of a king could mean death for his subjects. The sight of sixteen-year-old Catherine Howard being dragged screaming to the executioners block was not one of England's finest. Nor was the execution of the two young courtiers (framed by Catherine's ambitious uncle the Duke of Norfolk), who suffered the traitor's fate of being hung drawn and quartered.
That Henry was mad is in no doubt, pain from his leg would have been excruciating and his life as a monarch feared and fawned over had engendered in him an ego the size of a football stadium and a belief that he was God's envoy on earth. His subsequent decay, the sight of which must have been unavoidable due to the Tudor's love of mirrors, must have driven him mad.
England's most powerful families sent him sycophantic men who used their young daughters, nieces, granddaughters as pawns in their games of power. That Norfolk survived both Anne Boleyn and Catherine Howard after having been the architect of both their rise, and subsequent fall, must have caused their severed heads to spin wildly on Traitor's Gate.
The Tudor attitude towards women is well documented; they were ciphers used solely at the whim of the men who 'owned' them. Henry VIII was a fat old bastard who should never have been on the throne, having been made heir to the crown by the misdeeds of his father Henry Tudor. What would England have been like, I wonder, if the Plantagenet's had kept their grasp on the crown, if Richard III had not fallen at Bosworth and the two young princes had escaped from their locked room at the Tower?
The whims of men have steered us through the centuries, some great, and some evil. Ultimately, it is the people who indulge or not indulge the whims of great men, the people who allow tyrants to rule and leaders to commit genocide or to rise up in dissent. In a democracy the people vote, or protest and stand against a failing leader. In dictatorships, brave souls work from within to topple the throne. Importantly, we women who once whispered and cajoled from the darkness now lead.
Elizabeth I was a great monarch, she may have been vain and suspicious but at least she didn't allow her whims to guide her (after all she had the original James Bond, Sir Francis Walsingham for that).
So as I sit knitting (yes knitting) I reflect on how far we women have grown and developed. No longer at the mercy of tyrant kings or ambitious uncles, free to dissent and to vote and to make our voices heard above the din of male power; no longer forced to bow to the judgement of men. All men and women deserve to be free from tyranny…
I must go now, my son wants his lunch.