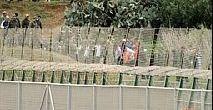 A MASS emigration attempt from Morocco to Melilla was foiled.
Moroccan police prevented around 200 Sub-Saharan would-be emigrants from climbing the border fence in Melilla to get into the Spanish territory.
The group advanced on the border fence around 11.45am close to the Rio de Oro area, although not a single person managed to reach the fence as the authorities managed to stop them.
Having seen the large crowd of people on the other side of the fence, Guardia Civil had set up an extra security zone around the frontier as a preventative measure, deploying officers from the National and Local police forces, although there was no need for them to intervene.
Spanish authorities are reportedly on maximum alert in the face of possible renewed attempts.