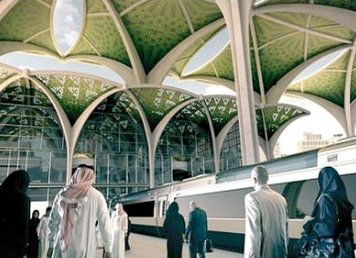 CONSTRUCTION has begun on the Mecca-Medina 'Pilgrim Express' a high speed rail link in Saudi Arabia. The line is expected to open by December 2016.
Spain beat France to win the contract last year, making it the biggest overseas contract ever to be won by Spain. 
It involves the combined efforts of 12 Spanish companies including Renfe and Talgo. The pilgrim train will travel 450km between the two Saudi Arabian cities and cost €6.7billion. The new rail link will alleviate a four hour car drive that pilgrims currently need to endure in the Arabian heat. It will include 35 high-speed trains and carry 160,000 passengers a day, which is 10 times that of the Madrid-Barcelona service.
Special measures need to be considered to take into consideration the large amount of luggage pilgrims usually take with them, including big bottles of holy water, according to boss of Spanish-run consortium Inesco, Pablo Vazquez. "The main problem from a technical point of view is sand," he said. "It gets between the wheels and the rails as well as inside the machinery, which really complicates things."