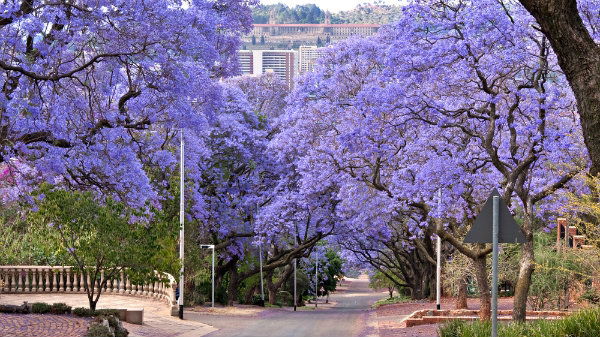 AS mentioned two weeks ago, we were asked to write a column about those trees that grow wide natural as they mature and trees that can be trained to grow wide at a relatively young age to give garden shade.
Firstly, we would like to highlight that when visiting Spain for holidays in the 1970s, before the crusade to cover the Costas with a concrete jungle, most Spanish family villa gardens had a number of large spreading mature trees that gave amble summer shade including shading half or more of the pool.
Typically the mature trees were, from memory, Ficus Elastic rubber trees, Araucaria Heterophylla Norfolk island pines, evergreen large leaved and large flowered Magnolia Grande Flores, Cherry trees trained on wires, Albizia Silk trees, Jacarandas, very old standard citrus trees, Pinus Nigra Maritime Corsican pine and sometimes Querus ilex holm oaks.
Naturally such trees dropped leaves and spent flowers, but no one was too bothered as in many cases in those days an inexpensive gardener swept and hosed the garden early each morning.
Nowadays too few new gardens have retained large inherited trees or planted new ones predominately for shade which is a great pity for hot summers cannot be enjoyed by people pets or many plants without shade for a few hours a day.
So if we were to start our garden today what trees would we consider planting for relatively fast shade?
1. Trees that can be trained on wires when young to create a green flat umbrella with most if not all the vertical growth cut off.
Possibilities include figs, cherries, white and red fruited mulberries, apricot, olive and juniper.
2. Relatively fast growing trees that can be grown with three metres of bare trunk so that the shaded area beneath the tree can be treated as an outdoor room. Possibilities include Pinus halepensis the Aleppo pine, Almonds, cherry, false peppers, jacarandas and Albizias silk trees, oleanders trained as standards, olives, jacarandas and acacias.
If you are not too keen on large trees, significant areas of shade can be created by growing fast growing climbing plants over metal or wooden gazebos.
There are 25 possible climbing plants described and illustrated in section 4.6 of our book Your Garden in Spain. The typical height/length and width of the growth of each is indicated. Just glancing through our book 'Growing Healthy Fruit in Spain' reminds one that grape, kiwi, kiwino and passion fruit vines can also be trained over gazeboes for shade and easy harvesting.
If you do not like sweeping up leaves and dead flowers, look on the task as collecting material to rot down to create a useful mulch material to use under shrubs and trees that will suppress weeds and help retain moisture in the soil by inhibiting surface evaporation.
Interestingly the issue of shade came up several times at the launch on the Costa Blanca of Dick's new booklet 'Making Waterless Gardens a Practical Reality Worldwide'.
Will be interesting to see what is discussed most at the Costa de Sol launch tomorrow and Saturday at the Homes Gardens and Outdoor Living Show at the Palacio exhibition centre in Estepona.
Hope to see some readers there and just a reminder that if you bring a copy of EWN with you Dick will offer you a discount on the new book.
(c) Clodagh and Dick Handscombe www.gardeninginspain.com November 2012.
By Clodagh and Dick Handscombe
Spain's best known expatriate gardening authors