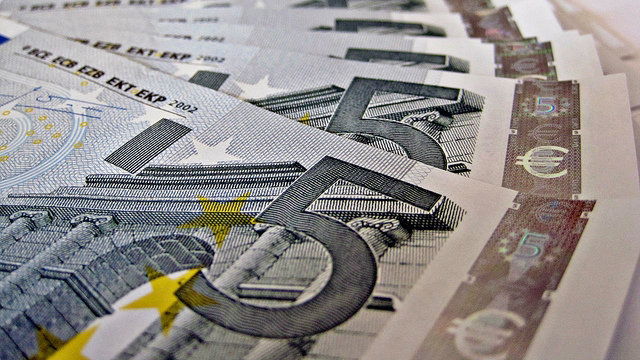 A NEW €5 note is to be introduced in May 2013 with improved safety features. Other denominations will follow afterwards.
Counterfeit banknotes are in circulation all over Europe and used not only by criminals but also by innocent citizens every day. The total value of counterfeit currency confiscated by police in 2011 amounted to around €6.5million, Germany's Federal Criminal Police Office (BKA) announced.
These new bills were developed to "make life as hard as possible" for counterfeiters, Helmut Schäfer of the State Criminal Office (LKA) in Bavaria explained. Forgers require time to examine new notes closely and early forgeries are usually easy to recognise.
The new Europa series benefits from numerous advances made in banknote technology since the introduction of the initial series over ten years ago. They will have three security features; a watermark with a portrait, a hologram with a portrait and an emerald green number.
The new notes will have the same denominations as before – €5, €10, €20, €50, €100, €200 and €500 – and the same main colours, but the new features will distinguish them from the old ones.
"The new series, called Europa, features a portrait of Europa – a figure from Greek mythology after whom the continent was named – in the watermark and in the hologram," explained yesterday's (Thursday) statement from the European Central Bank (ECB).
The definitive design for the new €5 note will be revealed on January 10 next year and banks will start to circulate them in May next year.
The new notes will be introduced gradually and the original series introduced 10 years ago will be in circulation at the same time, with the old notes being removed gradually and after a time ceasing to be legal tender.
"The date when the old notes will no longer be legal tender will be announced in plenty of time," said the ECB.
The original notes will maintain their value indefinitely and people will be able to change them at national central banks across the eurozone indefinitely.