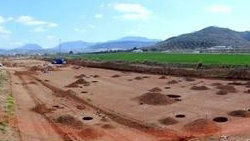 A NEOLITHIC village has been uncovered in Andalucia.
Workmen found the fourth century site under the mud at Arroyo Saladillo while working on the AVE fast track railway line between Antequera and Bobadilla.
Although the site was already known about, it turns out it is much bigger than expected. It could be the biggest of its kind in the Malaga Province at 1,400 meters in width.
A decision has not yet been made as to what to do with the find; whether it will be preserved or not.