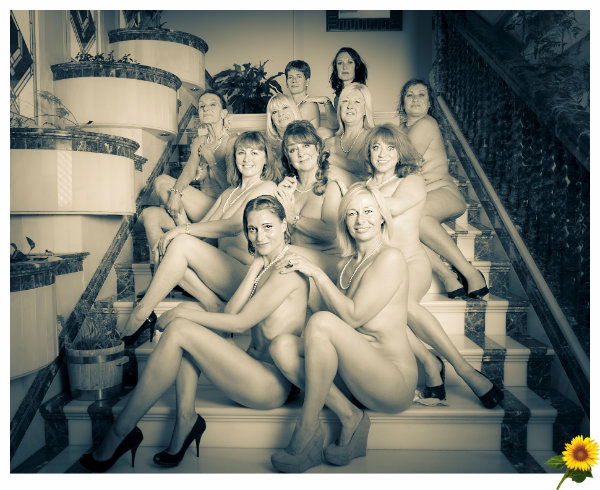 PENSIONERS and mothers aged between 30 and 70 are among 16 women who have stripped for a saucy charity calendar.
When the curtain rises in Fuengirola tomorrow (Friday) on a six-day amatuer production of the global hit film Calendar Girls, the women featured on the Salon Varietes Theatre´s 2013 calendar will be able to claim more than a peep of inside knowledge at what it is all about. For the not so blushing ladies have bared nearly all for the risqué photoshoot, and seemingly without a regret or blush in sight.
Forty-six-year-old Catrina Helsby – who plays Ruth in the amateur production and is the calendar´s Miss November pin-up – has no regrets. ¨I do a lot of productions here. When I heard they were doing Calendar Girls I was straight in for it.¨
As her 16-year-old daughter Dahlia was not opposed despite teenagers often being easily embarrassed by parents. "She had no qualms about the show or the calendar, and in fact wanted to be in the calendar. ¨ And my husband Dave doesn´t mind either, but he will probably be the first to say put your clothes back on.¨
Meanwhile fellow Miss June calendar girl Sandra Lilleywhite, aged 49, also found that her teenage son Greg, and 21-year-old daughter Lucy "thought it was great. "But then they have been involved in the theatre themselves. They know their mum is up for anything.¨
Calendar photographer Mike Naylor admitted that some of the women were a bit nervous and reluctant to take all their clothes off to start with.  "But I needed them naked for the shots because even though all their naughty bits are covered, I could not show any straps. But it went like magic.¨
Six of the 11 women featured on the calendar appear in the stage production, and five others work backstage or front of house at the theatre. The calendar is being sold for €5, with proceeds split between Salon Varietes, Leukaemia Research and Cudeca cancer hospice.
Show tickets are available from the box office on 952 47 45 42