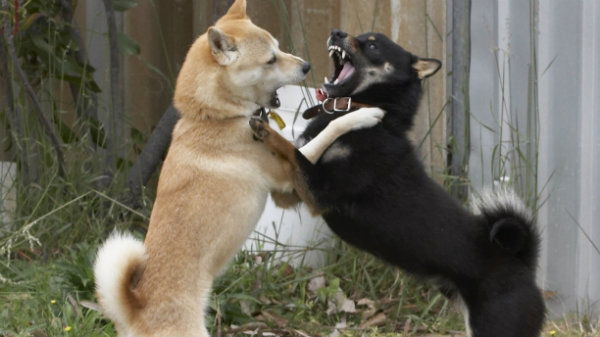 I HAD a call from a gentleman who informed me that he had put his Dobermann to sleep due to illness. The dog was 12 years old. He was devastated but he has another four dogs.
A few nights later when he was in bed he heard terrible fighting going on downstairs. His cocker spaniel had nearly bitten off one of the other dog's noses and all of them were injured. Reluctantly he took the spaniel to the vet and put him to sleep. He said the spaniel looked at him as if to say 'Dad, why are you doing this?' The man was in a terrible state and asked me if he had done the right thing. I had to say no.
The pack hierarchy had now changed and sometimes this causes fights. If dogs start fighting each other it has to be established which one is the new leader (in many cases an expert may be needed to help you).
The new top dog is to be loved 10 times more and fed first. We must keep using his name and touching and cuddling him as the favourite. We are showing him that he is the top dog. The fighting then stops.
However, I would stress that this does not work with fighting female dogs. There is no known way to stop them. It is best to re-home one of them.
When a dog places his paws and chest on the hindquarters of another dog as if he was mounting him, this is normal and common canine behaviour. In most cases, it is NOT sexual conduct unless the dog is thrusting. In young puppies, it is a play behaviour; in older dogs, it is a method of communication. The dog that is doing the mounting is generally displaying dominance.
Quite often owners who have brought a new, younger dog into the family get upset when they see it mounting or biting the rear legs of the resident dog. It is best not to correct this behaviour; it is normal. Sometimes it occurs when the status of the younger dog in the pack is changing and he becomes the top dog.
In order to understand this type of behaviour it might be worth thinking how children, as they grow into adults, sometimes have to take care of and make decisions for their parents as they get older. The human pack changes, too! My daughter always bosses me around!
Dogs eat grass
Many people ask me 'Why do dogs eat grass?' I always smile, thinking of my good friend Dr Rainer Horning, a leading vet who had a surgery in Coin near Malaga.
Many years ago we met by arguing about why dogs eat grass. I learned so much from him; thank you, Rainer. I hope soon we will be able to do a radio show together again. Rainer and I used to do a Sunday morning radio show bringing listeners up to date with the latest on pets and answering questions and problems.
Dogs do not necessarily eat grass because they are sick or have worms. It is normal for them to eat grass in very small amounts; their ancestors did. Grass foliage contains folic acid and it has been proved that cats eat it because of a lack of a vitamin supplement in a mainly meat-based diet. Maybe the same applies to dogs who could also be seeking roughage. Some dogs may eat too much fresh grass and cannot digest it. Because large quantities act as an irritant, the dog throws up. This leads the owners to think the dog ate the grass to induce vomiting.