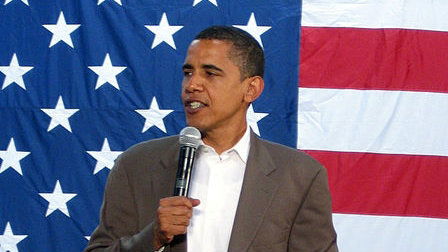 BARACK HUSSEIN OBAMA II is now the 44th President of the United States after winning the election for a second term.
This came after a historically expensive race that was primarily fought in a handful of battleground states.
Obama beat Mitt Romney after taking the lead almost every one of these 12 crucial battleground states.
In his winning speech, Obama thanked every American who voted, not only for him but for Romney. He vowed to work with leaders from both parties to tackle the country's challenges.
"Our economy is recovering, a decade of war is ending, a long campaign is now over," he told a crowd of cheering supporters in Chicago. "And whether I earned your vote or not, I have listened to you, I have learned from you and you have made me a better president."
He also offered clues to the policy goals of his second term, including a deficit reduction plan that combines tax increases with spending cuts and a comprehensive overhaul of the nation's federal immigration laws and tax reform.
Click here to listen to Obama's winning speech.