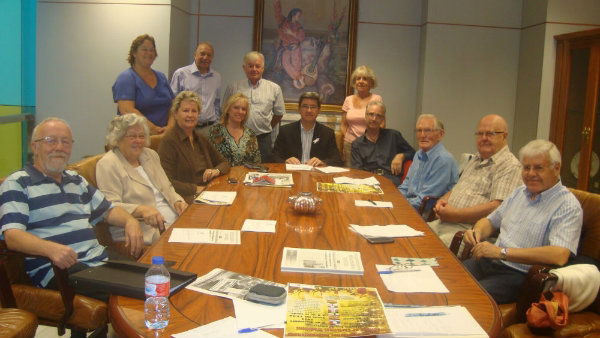 MIJAS Town Hall has announced that it could fine foreign residents who have never registered on the municipal census or 'padron'.
The town hall is currently encouraging everyone to register on the 'padron' or update their information, because if they fail to do so, when the next census is carried out by the National Institute of Statistics (INE) some 14,000 people may not have been registered.This could lead the town to lose certain benefits from the State which depend on the number of registered inhabitants.
Fines have already been sent to several residents who have been in Mijas for more than seven years and never registered, and could amount to up to €150.
Registering on the 'padron' is an obligatory procedure, which is "simple, free and quick" the local councillor for foreigners, Mario Bravo, pointed out. It can be done at the town hall or at the offices in Las Lagunas and La Cala.
The town hall is currently seeking out foreign residents who are at risk from being taken off the 'padron' explaining to them that this could affect their rights as residents.
---
Urgent appeal to expats: 'You can make a real difference'
SEVERAL Town Halls in Spain have set out on a mission to sign as many expats up to the 'padrón' – the municipal register – as possible.
Expats resident in Spain are obliged by law to sign up, but tjhere are still thousands either unaware of the register or resistant to sign up.
Now the Town Halls want to prove just how easy it is… and how much it can benefit their community.
By law, the National Statistics Institute (INE) requires town halls to update their municipal register before December 31.
However, some municipalities with a large foreign community have decided to advance this date and intensify 'padrón' promotion
In recent weeks, this has happened in the Andalucian towns of Benalmadena and Mijas, where unregistered foreigners and those who have not renewed their "padrón" status in the last five years (both EU and non-EU members) have been called to do so before November 30. Those who fail to register will lose the many rights that being "empadronado" (the condition of being registered) brings to expatriates. In Mijas, even six residents who have been living there for seven years but never registered have been fined up to €150.
Some expats have never heard about the 'padrón', while others may know about it but never decided to take action, either because they did not deem it necessary, beneficial or maybe because they think they will lose some rights from their home countries.
The truth is registering in the "padrón" only brings benefits, including:
– Better public services. The regional governments distribute their budget depending on the population registered. For every non-registered resident (7,000 and 14,000 in the cases of Benalmadena and Mijas, respectively), the town misses out on money to provide better services like health centres, security or public works.
– Parents can only choose their children's school when 'empadronado.'
– It is essential to obtain the Healthcare Card (tarjeta sanitaria).
– Social care and local benefits (depending on the town), such as discounts in sports facilities and bus cards, easier car plate registry, etc.
– Tax reductions on property (IBI), rubbish collection, etc.
– The right to vote in local and European polls.
– Travel discounts to mainland for the Balearics, Canaries, Ceuta and Melilla can only be enjoyed if 'empadronado.'
It is very easy to register on the 'padrón' and is free. Expats just need their passport and a resident's certificate with them and a copy to hand to their local town hall.
A copy of the property deeds or rent contract can also be handy. They will be usually asked to fill some simple forms too. And that's it.
A single person can even register the whole family, providing all the documents.
---
Padron statistics
THERE are currently a total of 5,711,040 foreign residents registered in Spain. EU-residents total 2,440,852, with Romanian nationals leading (15.7 per cent), followed by British citizens (397,535, a seven per cent share) and Germans (196,729, 3.4 per cent).
The British community in Spain, in particular, has increased by 1.6 per cent from 2011 to 2012, as well as their presence in the foreign population, from 6.8 to 7 per cent.
The community of international residents is especially important in the Balearics, Valencia and Murcia regions, where they account for the 21.6, 17.2 and 16.1 per cent of the overall population. In Andalucia, the share is smaller (8.8 per cent) but it was the fastest-growing region in foreign population last year, welcoming more than 13,000 new residents.