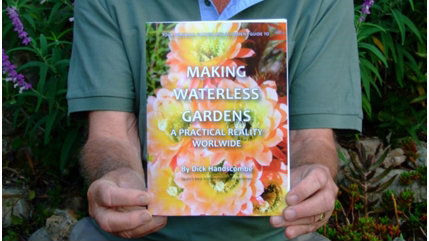 By Clodagh and Dick Handscombe Spain's best known expatriate gardening authors
---
IN SPITE of the long summer drought, many gardens lost few plants although they were not watered frequently and they are fantastically green and colourful after the recent rains.
Our garden survived with only two centimetres of rain and selective watering of struggling plants until we had 28 centimetres in a day. As a percentage of plants those that struggled were few for from day one the garden had been laid out and planted for dry summers and some years dry winters as well.
The extent of the rain after six month of rationing has made some plants think it is spring. Our male carob tree is full of catkin like flowers and buzzing bees some months early, a bottlebrush has more flowers than last spring and we were surprised to harvest a bunch of fat asparagus for dinner at the weekend. Normally we harvest from March to May. Lantanas have flowered all summer without watering but they grow daily with new masses of flowers and hibiscus caught by last winters frosts are at last full of double red flowers and the galan de noche is now white with flower each evening making October eating dinner outside a delight.
New booklet
Our gardening books all include advice on selecting planting and caring for plants from ground cover plants to large trees but inevitably over 25 years of gardening in Spain we have collected and developed many ideas, some novel, for waterless gardening. So to help readers evaluate how well they are prepared for another hot summer, or if new to Spain to help you design your garden from scratch according to Xeriscaping principles, Dick has collated them all in a new supplementary leaflet with the title 'Making Waterless Gardens a Practical Reality Worldwide.'
One thing the book highlights is that although rainwater is free many property owners take few steps to collect store and distribute rain water around the garden and ensure that none is allowed to run onto adjacent properties.
With thought much rainwater can be distributed as it falls via correctly directed and sloped paths and terraces to where most required and there vast amounts can be stored within improved spoils covered with one or more deep mulches to reduce the extent of summer water evaporation.
A special offer to readers. The idea packed book costs only three euros with a special discount to readers who bring along a copy of EWN to one of Dick's autumn talks. These include talks in Javea and Oliva for U3A Groups on the Costa Blanca to three talks each day during the 9/10th November at the Homes Garden and Outdoor Living Show at the Estepona Exhibition Hall. Dick will be at the show all day long to answer any gardening questions you have. Look out for stand 77 .