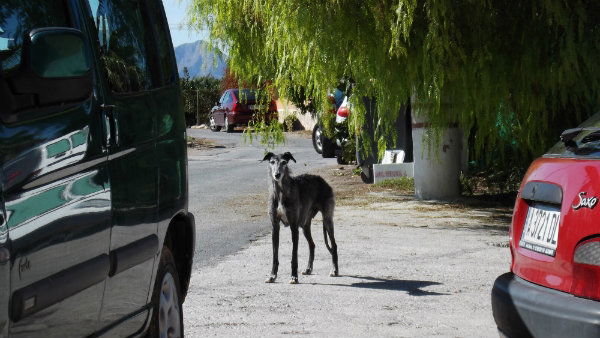 A STRAY dog that has captured the heart of the community and customers at one local restaurant has woken up in a new safe home after being rescued by an animal charity.
The Galgo, a Spanish hunting dog, similar in appearance to a greyhound, has been frequenting Viloriens Restaurant in Rojales for around a year, before staff spotted that she was pregnant. It was believed that she may have had her pups about a month ago and since then starting gaining the trust of staff and customers becoming a regular during lunch time service.
Waitress Hilary Lowe, who named the dog 'Scraggy Maggie'said there was no sign of the pups, but she had increasingly become friendly. "I called SATS animal charity a few times, but they were unable to catch her, but all our customers ask after her and have been brilliant donating food. She is like a little celebrity."
Concern was growing for Maggie's pups and a number of customers contacted Galgos del Sol animal charity based in Murcia. The charity was set up two years ago by Tina Solera and as Euro Weekly News arrived, Tina and her team were waiting for Maggie's arrival. Around half an hour later she made her appearance and was later caught.
Tina was concerned about the possibility of taking the dog and leaving her puppies, but she believed after seeing her that her milk had dried up meaning they had either left or not survived. This was confirmed by the vet's visit later that day.
Tina has renamed Maggie 'Hilly' after Hilary who helped them in the capture and she is now settled in to their rescue centre where she will be cared for and re-homed either in Europe or in America.
Viloriens would like to thank all of their customers for their kindness and support shown to Hilly and to regular customer Siren who has since said she will pay all of her vet's bills.
For more information on Galgos, visit www.galgosdelsol.es