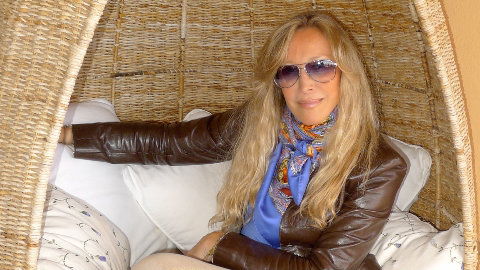 The Polo House on Marbella's Golden Mile underwent a transformation in May. Nicole Hallett speaks to Isabel de Borbon, the interior designer behind the new creation.
THE new design is 'casual chic'. 
While previously it was more in the style of a "formal English guards club", it now has a "Spanish Mediterranean feel, but still in keeping with Polo", explained Austrian born Isabel. "Before people felt they had to dress up in a tuxedo to dine here. With its terracotta colours it is now more accessible and relaxed," she said. "It is a place where more light comes in, whereas before it was darker."
The Polo theme is maintained with some of the photography and James Hewitt's personal items on display in vitrines. "My favourite place in the restaurant is the cosy corner table with one of the vitrines behind it."
The terrace is now covered by a pergola with blinds that can open and close, making it a "fantastic all year round place to relax in cosy and inviting surroundings," said Isabel.
The Polo Houses's transformation came about after James and Isabel bumped into each other at a dinner party. "He wanted to change the design of the restaurant to a more Spanish Mediterranean feel," said Isabel, who is a Polo player herself, which offered her a unique insight into the design. "We spoke about his vision and he liked my input and so went with it."
While usually a project like this would take four months, Isabel did it in less than a month working nine hours a day. "Ram and James saw and understood my vision, trusted my judgment and made quick decisions; it was a pleasure to work with them," said Isabel. "It was an exciting project that went quite smoothly. The only mishap, if you could call it that, was that the marble arrived on time when we had calculated that it would arrive late."
The Polo House is an elegant dining venue offering the finest fish, meat and local specialities. With a vibrant bar area, live music and late opening hours Polo House is the perfect venue for dinner, drinks and entertaining. It opens Monday to Sunday, 5pm until late and from 12pm-4pm for Sunday lunch.
One of a kind
Vienna born Isabel de Borbon is the Costa del Sol's only female polo player and Spain's Female Polo Champion in 2010. She has won the Andalucian Polo Championships twice; in her own team 'Los Coyotes' in 2007 and with another team, 'Dr A team' in 2009. Both times she was the only woman on the team.
Isabel was raised in Marbella and has lived in New York, London and Paris and travelled to South American, Kenya, Thailand, China, India, Japan and Singapore.
She has worked as an interior designer for more than 10 years in Paris, New York and now Spain. In addition to private clients she has also decorated the grill restaurant at the Marbella Club, three houses at the Marbella Hill Club and five villas and more than 40 rooms at the Marbella Club Hotel. Isabel often gets her inspiration and ideas from the many places she has travelled.