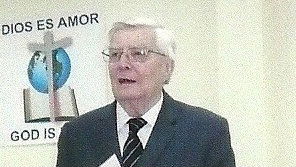 A PIONEER spoke in Mojacar.
Gordon Burgess arrived in Spain 50 years ago with his wife and young child, living in a van and risking imprisonment by the Franco regime for bringing in Bibles and preaching the Gospel.
Since then Gordon has started 50 churches, for both British and Spanish congregations, and remains an active Pastor in Alicante.
Saturday morning he addressed the Full Gospel Business Men´s Fellowship International (FGBMFI) Breakfast Meeting at the Torre Bahia Restaurant, Mojacar Playa.