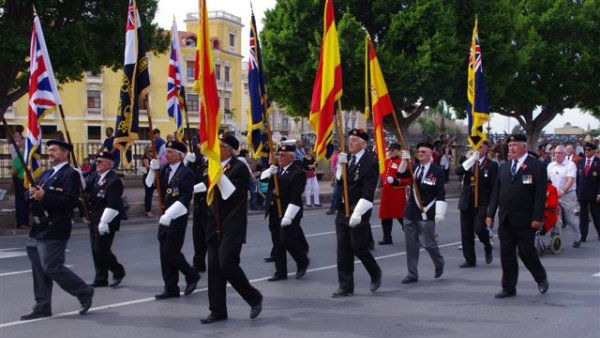 BRITISH ex-service men and women from The Royal British Legion, The Royal Naval Association, The Royal Marines Association and The Royal Air Force Association along with their wives, partners and friends were invited to take part in a spectacular military parade in Murcia City on Sunday.
The parade was led by the rousing sounds of The Torrevieja Pipes and Drums followed by the standards and flags of each organisation. There followed members of the ex service associations led by special guests from The Royal Chelsea Hospital in London, Chelsea Pensioners Wayne Campbell, and Arthur (Skippy) Teasdale, looking absolutely resplendent in their bright scarlet  tunics. Also Victoria Kilbane, a 15 year old Sea Cadet from HMS Wrekin who flew over from England to parade her Royal Navy Standard.
The parade then continued with the organisers of the re enactment under the auspices of Codex Belix, a Madrid-based association that organises historical and authentic battle reenactments. Around 300 of the association then took up positions around the Town Hall area. They were dressed in World War11 military uniforms of German and American soldiers and British Paratroopers and were accompanied by over 30 military vehicles and tanks.
When everyone had taken up positions, the sound system echoed with the sound of artillery and tank fire dropping shells. This was the signal for the re enactment of  The Battle of Falaise Pocket to commence. The battle, which took place between August 12-21, 1944 was the decisive engagement of The Battle of Normandy. The battle re enactment lasted approximately 40 minutes with soldiers firing blank ammunition at each other as well as  throwing thunder flashes and engaging in hand to hand combat.
In all, the parade ranks were increased by over 120 British and Irish ex servicemen as the bond between the Spanish and Expatriate communities was strengthened even further by the military associations.