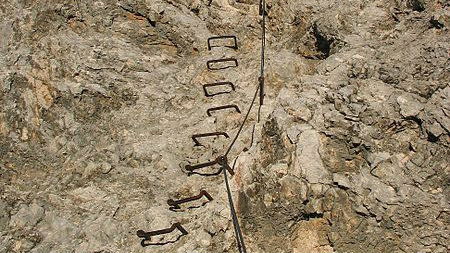 THE Serrania de Ronda is home to southern Spain's most important Via Ferrata climbing route.
Following the inauguration of the Via Ferrata in Gaucin, there are now nine in the area.
A Via Ferrata is a protected climbing route equipped with fixed cables, stemples, ladders, and bridges, making otherwise dangerous routes to be accessible to people with different climbing abilities.
The recently inaugurated Via Ferrata has cost Malaga Provincial Government €10,400 and ends at the local Castillo del Aguila after a 200-metre climb at heights of 80 metres along a vertical wall. The route includes a 40-metre zip-line and a 50-metre rope bridge.
The security cables can support weights of up to 30,000 kilos.
This new Via Ferrata is another step towards making the Serrania de Ronda area a favourite with climbing and adventure sport enthusiasts from all over Malaga and Andalucia, as well as hoping to attract visitors from further afield.
The project is part of the Serrania de Ronda Tourist Product Promotion Plan paid for by Malaga Provincial Government, the Junta de Andalucia and the Central Government.
Since 2008, more than €3.68 million has been invested in the area, with the creation of museums and visitor centres, as well as the new Via Ferrata.