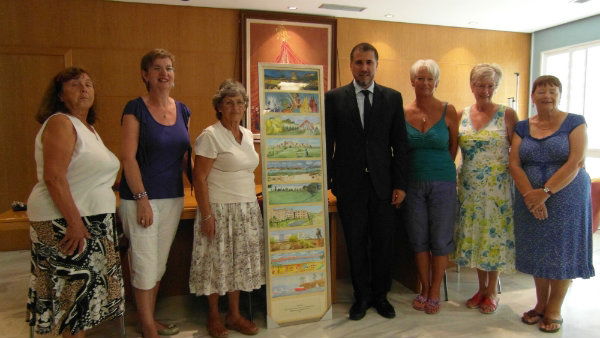 A GROUP of ten artists from the Orihuela Costa, 'Arte La Casita', presented a painting to the Councillor for the Coast, Pedro Mancebo, on Monday.
The painting, which comprises 10 individual paintings, represents the way from Orihuela to Orihuela Costa and has been painted in watercolour. The 'camino' shows the city, the Moors and Christians fiesta, a countryside scene, the Pedrera reservoir, a lush green golf course, typical urbanisations on the coast, the Town Hall with the bird of Orihuela, the Oriol, standing guard and the beach before finishing with the tower at Cabo Roig.
Pedro Mancebo thanked Arte la Casita for this gift and informed them that the painting will be hung in the main hall of the Town Hall at Playa Flamenca. He announced that he is also looking for a suitable building to open a public library which would then enable Arte la Casita and other groups to hold exhibitions and present their works and art for everyone to enjoy.
The group of artists who form Arte La Casita are residents of the urbanization Dream Hills who meet every Monday.