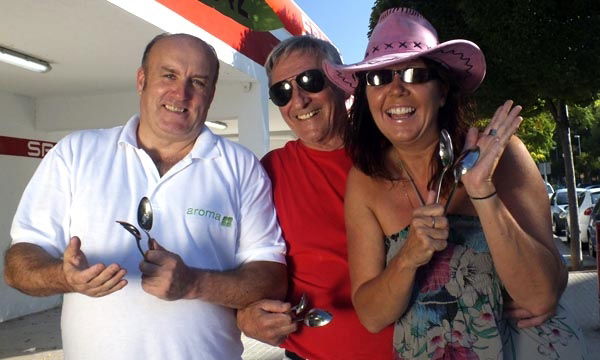 AN old tradition is about to start again on Mallorca. For many years entertainer Leapy Lee held his 'Flying Curry Circus' nights on the island and they became a focal point for the ex-pat community. The circus left town more than 10n years ago but due to popular demand Leapy has agreed to resurrect the curry nights with a spicy new twist at a new venue.
"In the early sixties Bayswater in London was full of artists and actors who spent a great deal of time 'resting'. Many of us could hardly scrape together enough to eat, never mind pay the rent," said Leapy, explaining how the curry nights first started.
A 'generous' friend of his, "Eddie, operated a pirate cab company and decided to invite a number of showbiz folk to his apartment every Saturday night to share an enormous pot of curry".
"A generous friend of mine, Eddie, operated a pirate cab company so he was one of the few working, and as he was a very generous man to boot, he decided to invite a number of showbiz folk around to his apartment every Saturday night to share and enormous pot of curry. 
For some of us it was the only 'proper' meal we would eat all week and we would all sit round and gossip and some would bring instruments. Those who couldn't play would tap out the rhythm using spoons. It was always a great loon and often lasted till daybreak."
When Leapy arrived in Mallorca in 1982 his bar in Son Caliu was having trouble getting off the ground. "I decided to stage a similar event and invited local musicians to come along and sing a few songs for a freebie and sell a curry to the customers. It was a resounding success," said Leapy.
"When I lost the bar I decided to use other peoples venues for the evening. I travelled all over the island with the curry and the show, which was when I decided to call it the 'Flying Curry Circus'.
We eventually found a permanent venue at Bertorellis restaurant (which appropriately at that time had an old DC6 aeroplane in the grounds!) We stayed there very successfully for the next ten years." 
The Flying Curry Circus was featured a number of times on British TV and where fronted by acts including Bernard Manning Mick Miller, Frank Carson and many old rockers from the 60s. 
When the restaurant was sold the new owners had different plans, so they had to finish. "Since then I have only done the occasional private function or restaurant but when Laura at Spectrum radio suggested that people would enjoy that type of thing now I decided to give it a go".
Laura Penn had heard about these nights spoken about in legend. "Everybody who remembers them says that they were great nights of food and fun. It seemed to me that these days people are watching what they spend but they still want to have a good night out and so the curry nights would be perfect."
Leapy and Laura looked around for a venue and Aroma Restaurant in El Toro was the ideal choice.  Manager Mark Scott agreed to close the restaurant kitchen for the evening and let Leapy do his thing. 
"We have built up a large loyal clientele at Aroma in the past 18 months and have a reputation as a great live music venue so this seems to be ideal," said Mark. The first resurrected 'Flying Curry Night' will be next Saturday September 29.  There will be three different curries on offer with an 'all-you-can-eat buffet', live music from Leapy himself and cabaret from American entertainer George Pena. 
Not forgetting the communal spoon playing!  Then Laura and the Spectrum FM disco will have people dancing till late, all for just €15. 
For more information contact [email protected] or l[email protected]  or call Aroma to book your place on 971 232842.