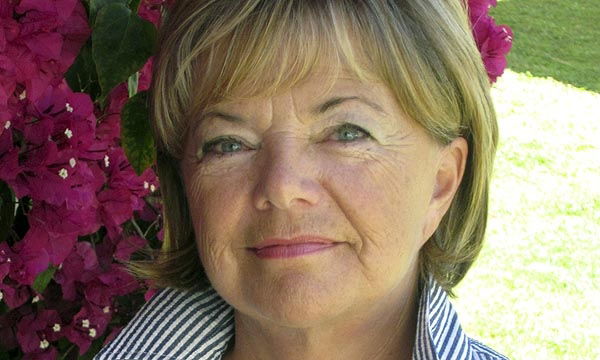 Co-author of a controversial best-seller on the RAF Susan Phoenix lives in Spain and has written an explosive new chapter exposing a 'miscarraige of justice'. Nicole Hallett reports.
Vital Statistics
• Originally from: Born in Peterborough, spent most of my married life in County Antrim, Northern Ireland
• Live: near Estepona
• Age: 63
• Status: Widow, 2 children, 4 grandchildren                 
• Hobbies: Reading, walking, cycling, sketching.             
• In Spain: Eight years here following, eight previous years in France
• Love (in a word): people
• Dislike (in a word): dishonesty
• Best thing about Spain: The proximity of sea and mountains and of course the weather.
• Worst: dishonesty, lack of integrity in places of authority.
• Always in fridge: good wine
• Favourite novel: too many to mention, I have eaten books for breakfast since I was a teenager.
• Most like to meet: Anyone who loves life with a story to tell.
Tell us about the 1996 best-seller 'Phoenix, Policing the Shadows':
I wrote the book with my co author, Jack Holland, a New York journalist from Belfast. I wrote it because many other authors were starting to use his name in their books and I thought that the story should be from me. It was hailed, at that time, as one of the most balanced books to come out of the Northern Ireland troubles. It sold in hard back and paperback around 90000 copies. It is still selling now in Kindle format.
I chose Jack to write the story with me because he had an amazing historical knowledge of the Northern Ireland situation and he was writing a column for the New York Echo at the time. Ian and I had met Jack (an Irish Catholic) and Mary his American wife just a year before the crash on the Mull of Kintyre that killed the 28 top ranking anti terrorism experts, my soul mate amongst them. In fact enigmatically, apart from the pilots, Ian was the only body not to burn, the Phoenix really did rise from the ashes. It took me many years to realise how important that fact would become to me. He died in the heather on the mountains that he loved to walk.
The book covers Ian's life story from a young man in County Tyrone, through his life as a paratrooper in the sixties and onto being a top ranking, anti terrorist, RUC officer. In between he met me as a young military nurse, taught me about the pleasures of country living in the wilds of County Antrim, oddly overlooking the Irish Sea with a view to Scotland where he would die in the heather 28 years later.
I have been told that our love story, entwined within the savage history that was the Northern Ireland troubles, made the very political and militaristic story, human and showed that the life of a Northern Irish Policeman was not easy. We printed for the first time the makeup of the IRA army council; we printed photographs of a very young Gerry Adams that I happened to find amongst Ian's papers and diaries. It was very controversial and I discovered years later that my phone in France had been tapped by MI6 whilst I was there finishing off the book. In fact our love sustained our family and I recently heard my daughter recount on a BBC radio interview the fact that I had given them a very normal, fun upbringing whilst sheltering them from the undercurrent of fear and anxiety. (Hear this interview on my website). 
At one time not only was this book the best-selling book EVER in Easons book shops in Ireland but also the most often stolen, indicating I am told, that all of the paramilitaries wanted to read the real story about their dirty deeds.
What makes the new chapter 'explosive'?
This Final chapter illustrates dubious Government Ethics both in matters of airworthiness for Military Aircraft and collusion with state media for damage limitation purposes.
I teamed up with senior Engineering and aviation experts to expose a miscarriage of justice that allowed all of our families to suffer unnecessarily for 17 years.
This bonus chapter is to illustrate that there was a link between economic waste, poor leadership and airworthiness failings that allowed my husband and his high ranking colleagues to be flown on a military Chinook without the correct authorisation to fly on that fateful day June 2nd 1994. My suspicions were aroused , one year ago, when Dr Liam Fox chose to issue a statement in the House of Commons saying that "the Air Marshals are honourable men!" having just cleared the names of the young pilots who had been condemned by the same Air Marshals for the last 17 years.
Outrageously even after the final 2011 review by Lord Philip, which reiterated countless other inquiries stating there was  never sufficient evidence to malign the reputations of two fine special forces pilots, these same senior officers continued to blame the pilots. Their arrogance on various media programmes was worryingly left unchallenged – given the recent links between Government and media moguls it is easy to see why.
What prompted/inspired you to write it? 
I dislike dishonesty so much in positions of power that I would like more people to stand up and be counted. I think it is the final epitaph to the life story of a man who had been dedicated to truth and honesty in his career as he and his colleagues worked to bring peace to Northern Ireland.
The years of technical research by so many eminent men, now retired, who were ignored and sometimes intimidated, and who wish to see similar truth and honesty applied in the Government Departments that continue to send our young men and women to war.
What is the most shocking thing that you uncovered researching this chapter?
The way that senior men allowed those young pilots to be condemned for what was a serious flaw in the RAF senior ranks and the MOD. Lesser ranks would have been court martialled for telling lies and being so frugal with the truth, knowing they had facts to save those pilots' reputations. How can we expect our young service people to respect such dishonest criminal behaviour in senior ranks?
Current job?
I am supposedly a retired psychologist but I continue to research worldwide complementary therapies for depression, write and answer a lot of emails from grieving people who have read my last book or who have attended my workshops and need help. I originally did some private consultations on the coast but decided to focus on group work to allow people to see their own healing power. 
I have had the pleasure of collaborating with some very committed young people in Spain, originally Clinicamedicare and now Redline Company with Gratitude art , who organise occasional Inspirational workshops using meditation, visualisation, group work, angelic and universal energy to help individuals discover a new healthy attitude towards their problems and lives. I call what I do "energy medicine" and the aim is to stop the need for prescription drugs sedating perfectly healthy souls in society. 
The focus for the next workshops will be "A Matter of Life and Death", designed to support those who have lost loved ones through death or divorce, but essentially to teach that understanding death helps have a fuller life without fear. We will probably include some group past life regression next time, having recently worked with Dr Brian Weiss in New York in hypnotherapy for assessing today's problems with past life analysis.
Previous jobs? 
I was a psychologist for the deaf community in Northern Ireland, working in a voluntary capacity across the whole of Ireland. I finally ran a multi media charity to produce educational material in sign language for children and adults.
Fondest memory?
My most recent fond memory is of my son who was an RAF pilot at the time that I took his aura photograph(a camera that reads the body's electromagnetic field) in the local Mind Body Spirit show here in Nueva Andalucía. He is the typical young man who tolerates his mother's "weird" life but we both had a shock when we saw his photo. It had a peaceful blue and purple aura but to one side was a white column of light. As I showed him the result, his question to me was a surprise, "That'll be my Dad won't it? Because I can feel him beside me when I fly into Iraq, I can feel him beside me in the cockpit." This story has given hope to many people in their own lives.
The soul really does continue to help as it can long after the physical body dies you know? 
Visit www.susanphoenix.com for further details.