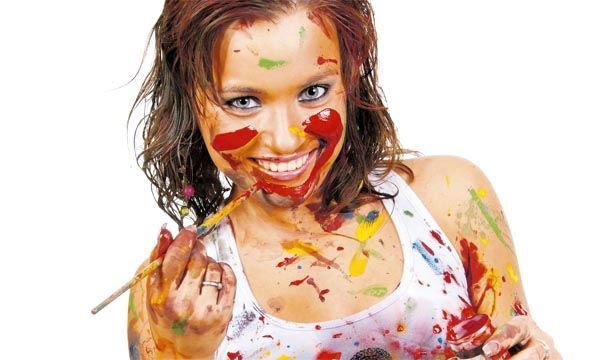 THE poet Rabindranath Tagore once wrote that, "Age considers; youth ventures." Except, it seems, in the case of the 80 year old churchgoer from Zaragoza who decided to restore a 100 year old painting of Christ using a painting by numbers set and an old dish mop. 
Apparently she leapt with glee upon the beautiful fresco by Elias Garcia Martinez and duly proceeded to totally obliterate the pained features and delicate brushwork of the original. This story gave me the biggest laugh of the year, especially the protestations of the perpetrator who insisted (as a child would) that everyone knew what she was doing and she therefore had done nothing wrong. 
Personally if I were her I would have plead insanity or told everyone that Christ told her to do it then ran away and hid. What is telling is the vehemence with which she attacked the fresco. Not only did she endeavour to paint the missing sections ruined by damp and age, but she continued by covering the whole image with her own particular style of brushwork which was amateur, to say the least. 
Her 'restoration' to me smacks of something more sinister, artistic envy perhaps, a desire to destroy beauty or maybe she just hated the artist's work. 
Whatever, the fact remains that she has deliberately ruined an accomplished work of art and you may feel I am being cruel but the woman is not stupid or mentally impaired, she seems quite bright to me and must have realised that one does not just paint over a century old fresco in order to save the church a penny or two. 
Perhaps it should be treated as a deliberate act of vandalism. Would a 16 year old graffiti artist be treated with the same benign amusement? How many of us who at least profess to a smidgen of artistic talent have thought "Ooh that Michelangelo could do with a spot of paint, let me just slap a bit of Titanium White over the third Cherub from the left and see what happens?" I think not.
Absurdly, given the wanton destruction the old lady caused, her act has created something of a tourist boom for the church and 'Ecco Mono', as the restoration has been called, has become a 'must see' attraction.  
The second laugh from this whole 'fiasco' surely has to be the sanguine attitude of the Councillor of Culture whose  solution to the likely irreparable damage to the work was to comment that perhaps they could replace it with a photograph of the original. Why stop there, why not replace 'Ecco Homo' with a photograph of Bart Simpson? 
Anyway I'm off to The National Gallery, thought I might restore a few old masters, maybe brighten up a Caravaggio or two, add a few flowers and put a smile on the lips of St Sebastian. Then who knows, maybe I'll straighten up the nudes in Picasso's 'Demoiselles D'avignon' and finish up by cleaning Duchamp's urinal. I may even rewrite the ending of Macbeth. The world is my lobster as Salvador Dali may have said.
Anyone got a dish mop I can borrow?