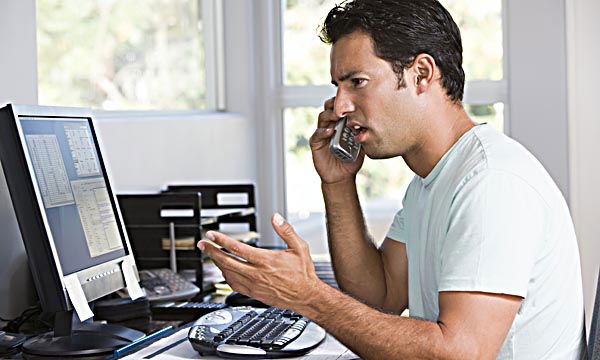 Nineteen websites offering fake computer support have been closed by the Metropolitan Police's e-crime unit in London, but the scams continue to spread across Europe
A PHONE scam that defrauded A PHONE scam that defrauded thousands of computer owners in Britain continues to be reported in Spain.  Many computer owners on the mainland have been contacted by a company claiming to be connected to the Microsoft support team, informing them of problems with their PCs.
These could be fixed online, the callers have claimed. The 'problem' they are told about is that many 'error' messages have been received from their PC, including notification of viruses that should be fixed to prevent 'crashing.' 
To prove their authenticity, the user is then invited to view the 'error' messages on screen by following the caller's instructions. After being told to press a sequence of keys, the messages appear apparently proving that PC doomsday is around the corner.  The helpful caller then 'clears' the messages and informs the user that their problems are over. But in reality the problems have only just started. 
In effect, there were no 'error' messages and the PC had no problems, but through a clever keyboard scam, the caller has gained complete remote access to the user's PC including all private and confidential information, which can be used in a variety of financial and identity scams. 
Some UK users were actually charged a £185 (€230) subscription for the 'fixing' service. Last April, the Metropolitan Police's e-crime unit in London closed many illegal sites including 'supportonclick.com' registered to Pecon Software, a firm based in Kolkata, India. 
The company has since opened further 'support' websites including onlinepccare.com, which has been operating within the English-speaking Spanish market. David Shaw,  an EWN reader from Calpe, said that a well-spoken man, probably of Asian origin, phoned twice in an attempt to get him to check-out his computer. 
He gave his name as Greg Smith and when asked, quoted a US phone number. Attempts to contact this number since have all been unsuccessful. However, Microsoft officials say they are aware of the problem and have issued the following statement.
"There are many potential dangers. As well as losing money to a scammer by paying for a service that provides no benefits, personal and banking details are also at risk. If you give a scammer remote access to your computer, they can cause all sorts of mischief, including infecting your computer and acquiring your personal information."
They say anyone receiving such a call like this should just hang up.  Strangers should never be given remote access to a  computer, and personal, credit card or online account details should not be given out over the phone unless the call has been personally made, and the phone call came from a trusted source. 
Microsoft added: "If you think you have provided account details to a scammer, contact your bank or financial institution immediately. "We are told the police are unable to effect refunds for people who are  scammed by the cold callers, though they do class the crime as 'obtaining money by deception', in other words, fraud."