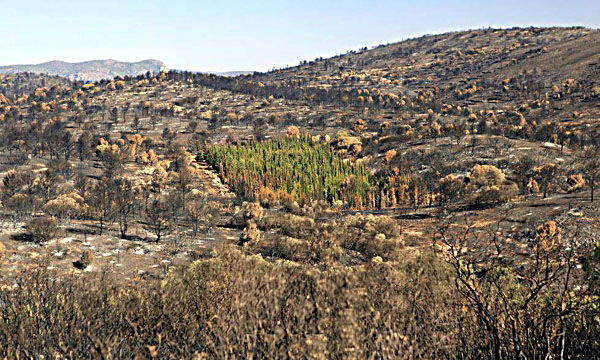 THIRTY international experts are to fly in later this month to try to discover why some green, healthy cypress trees survived a fire. A fire that devastated around 20,000 hectares (49,500 acres) of woodland around the Valencia town of Andilla in July, mysteriously left a clump of 946 Cypress trees virtually unscathed, while surrounding pine, oak, holm, juniper and gorse trees were destroyed, according to Spain's leading daily El Pais.
Even more extraordinary according to Bernabé Moya, director of forests for the provincial delegation of Valencia, is that though the trees were packed close together, the fire did not advance through the higher branches. 
The overall mystery has reopened the debate surrounding forest regeneration. There is no consensus among scientists about cypress trees ability to fight or stop fire. 
"I knew the cypress was used as an acoustic screen and windbreak for insulating, for example, a highway, but I didn't know about its ability to resist fire," admits Rafael Serrada, vice president of the Society of Forest Sciences. 
Raúl de la Calle of the Official Association of Technical Forest Engineers is more sceptical. "We will have to find out what really happened. The cypress is not a very combustible species, but to the point that it doesn't burn at all – sorry, there is no such thing as a fireproof tree," he says.
The enormous resistance of the cypresses has raised the possibility of using the species as an ally in fighting forest fires: one tree to save another.  Bernabé Moya said: "They could be planted strategically to reinforce the firebreaks in hard-to-reach areas." 
Other scientists disagree saying "Introducing a species that isn't native is a mistake as it changes the ecosystem and endangers the rest of the flora. Fallen cypress leaves give off a substance that acidifies the soil – similar to that of the eucalyptus – which prevents anything from growing below."