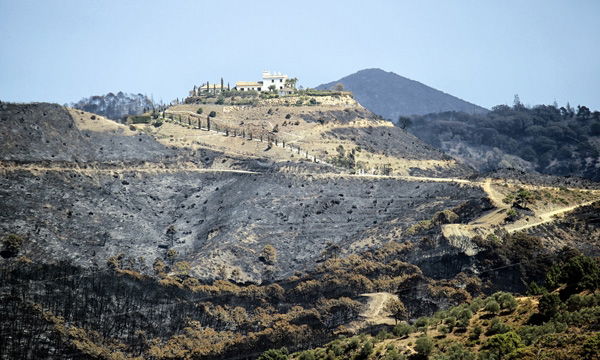 Raging Malaga fire leads to multi-million clean-up
 By Nicole Hallett 
VICTIMS of the biggest fire in Malaga Province for 20 years continue to count the cost. Insurance officials are also looking at figures after the killer blaze last Thursday evening destroyed 200 homes and engulfed 8,225 hectares of land (the equivalent of 13,000 football pitches), almost 85 per cent of it forest, and the remainder agricultural and urban land.
As it spread through the night it raged in half a dozen municipalities, including Coin, Alhaurin, Mijas, Marbella, Ojen and Monda. Helicopters and fire-planes continued to damp down 48 hours later, by which time residents as well as tourists drove around to take a closer look at the affected areas.
The AP7 from La Canada through to Fuengirola proved a popular zone, with the motorway having earlier acted as a firebreak in some areas, with each side totally burned, but the central reservation bushes untouched!
The fire started in Barranco Blanco in Coin municipality and Guardia Civil officers are continuing to question people in the area in a bid to reveal the  source of the blaze.
Many insiders feel it was started intentionally, a theory backed by the delegate of the Government in Malaga, Jose Ruiz Espejo. "The experts find it odd that the fire expanded so fast along so many kilometres and that such quick notice was given," he said. 
However, nothing has been ruled out and the investigations continue. With temperatures well above 30ºC when the fire started, dried scrubland and vegetation, combined with gusting winds of  more than 30 kilometres an hour at times, saw the blaze quickly spread over 12 kilometres, forcing around 5,000 people to be evacuated, including guests staying at La Cala Golf Resort Hotel.
Police went door-to-door ordering families out of their homes as the flames neared. Killed in the blaze was a 54-year-old German who returned with his wife to their home in La Mairena after being evacuated. His charred body was discovered later, although his wife's body has not yet been found.
Five people were also injured including a German couple aged 59 and 60 who remain in a critical condition in hospital. They suffered more than 50 per cent burns. The devastation left in the wake of the fire will mean a multi-million-euro clean-up operation, including reforestation projects and reconstruction of housing and infrastructure.
Many of those who have returned home from the emergency centres that were set up have been left without power. The social network Facebook (FB) played an integral role during this disaster in which some householders have lost everything.
While the fire raged, FB members updated others on its reported whereabouts. A Facebook group called SOS Volunteers Andalucia was also created to provide a social communication and information exchange platform. It now has thousands of members.
Early on various points were organised, including the Iceland stores in Fuengirola and Puerto Banus, for people to drop off donations, including clothes and food. "The response was overwhelming," said an official. "People have come from all along the coast with items to donate, filling hundreds of trolleys."
A horse box arrived from Axarquia filled with items donated by people in Herradura and the Nerja donkey sanctuary, among others. Many donated items have been taken to a central government collection point and to the Red Cross for distribution. Anything left has been stored and is being sorted. 
Pet supplies have been taken to various charities, including Kim's animal shelter in La Atalaya near to where the fire started. Volunteers worked through the night on Thursday evacuating the dogs.
The cats, which had to be released onto the land when the flames started to engulf the cattery, are now reportedly slowly returning. Meanwhile, the FB group has since set up an interactive website – www.sosandalucia.com – which provides updated information.
This international community is also collaborating with various organisations, including local charities, media and local town halls. The group's plan is to continue to serve as a centralised platform for any other potential future emergency situation.