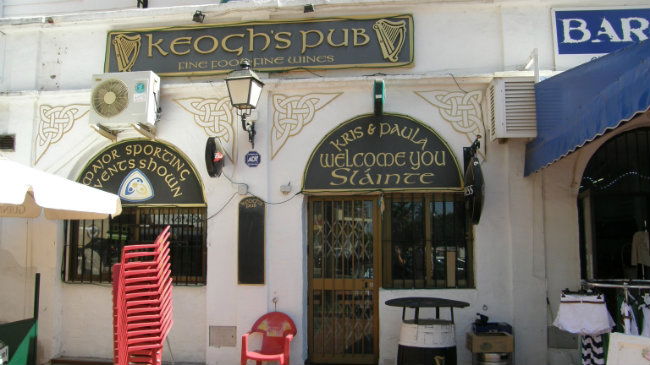 POLICE believe a bar shooting in Benalmadena may be gang related.
Irishman Michael Joseph O´Driscoll was this week recovering in Malaga University Hospital after being injured in the shoulder in an early-hours shooting.
A waitress – who asked not to be identified – claimed yesterday (Wednesday) that O´Driscoll, wearing a blue track-suit and cap, ran into Keogh´s Pub on Avenida Gamonal in Arroyo de Miel, Benalmadena, around 3am on Sunday morning. 
He appeared to be being chased by a man in a balaclava, who after the shooting inside the bar fled the scene.
All the other bars in the area had already closed around 2am.
Irish police are co-operating with Spanish officers to determine if the shooting is gang-related, and to see if the victim might be involved in low-rank mob activities.
O´Driscoll father was stabbed to death in gang violence in 1991 while his brother Thomas has been dubbed the 'unluckiest criminal' for his long police record and accidents that have put him twice into a wheelchair.
Initial reports in British and Irish newspapers claimed the shooting took place in a bar in Torremolinos.
EWN was unable to confirm some reports that O´Driscoll was with a girl at the time of the incident.
All bar employees in the neighbourhood – apart from the waitress – claimed not to have any details of the shooting, with a general blanket of silence.
---
Article by Nicole Hallett and Daphne Hilarides
---
Click here to see the Costa del Sol virtual paper.