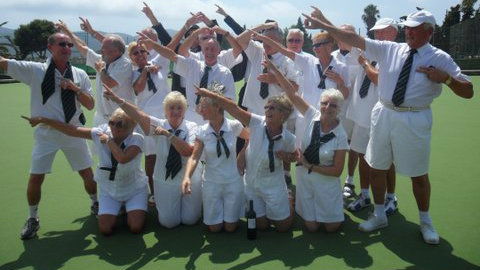 THE Javea Green Emeralds went into the final round of matches in second place behind BBC Panthers.
The Emeralds held their nerve to record a 6-2 win over El Cid Greens. The BBC Panthers however lost 0-8 at home to Bonalba leaving the Emeralds as the Triples League Champions.
The cup was presented on Tuesday 14th August at Finca Guila by Andy, Tom and Jewels a Blues Brother Tribute act from Benidorm.
Captain John Pittaway thanked Tony James and Pat Vaughan co-ordinators of the NABA league and Finca Guila President Fred Simpson of the host club for the presentation.
Congratulations to Janet and Trevor Neale for reaching the Semi Final of the Naba Pairs, which was won by Sara Hamer and David Bluff from El Cid.
---
Article by Geoff Morris