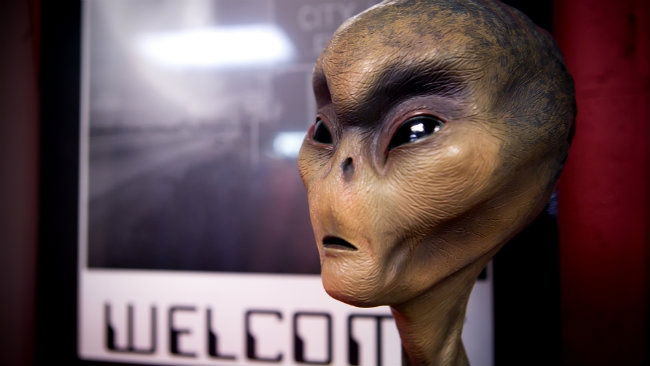 RECENTLY released classified documents from the UK's Ministry of Defence reveal how staff believed aliens could visit for "military reconnaissance", "scientific" research or "tourism". 
Now, why would 'aliens' with such advanced technology that enabled travel throughout the universe at maxi-mph be interested in a week's B&B in Skegness? Surely they'd have the technology to do their "reconnaissance" from afar?
And why on 'Earth' would anyone want to go to the UK for a holiday? Presumably they have the run of the universe, somewhere without global warming, corrupt politicians or bankers.
The UK admittedly does possess some uniquely otherworldly, semi-derelict, desolate seaside resorts that might make them feel at home. Judging by some of the population of these places, some of them might well have stayed and set up boarding houses, one-armed bandit emporia, tattoo parlours and ice-cream stalls.
Presumably, though, those who did make it managed to pass through Heathrow when passport control was having one of its relaxed days. The rest will just have to join the queue and wait – the Borders Agency has no 'guidelines' concerning those not from a 'World' country.                                                                                      
In many low-budget, science-fiction classics of the past like The Invaders, Invasion Of The Body Snatchers, Quatermass 2, the alien invaders had the power to assume human form. Maybe some among the many migrants amongst us aren't just from other lands but other planets? After all, according to the 2011 census, the UK alone has undergone its biggest population surge after a decade of mass immigration. Some even believe many 'alien migrants', collectively, are known as Members of Parliament!
Good grief! Next we'll read Northern Europe's current bad weather is the fault of aliens. Their UFOs moved the jet stream south. Anyway, let's hope they bring their wellies and brollies for their next visit – what, the Extra-Terrestrial Olympics?
Really! Stories like these – head in bucket of sand comes to mind – do bring the crazies out. En masse. Is it the traditional summer 'silly season' already when such daft stories are regularly trotted out? What real news are we being distracted from? Elvis has been sighted on the moon – again? Katie Price really does write her own novels? And former Italian PM Silvio Berlusconi's planning a comeback? No, hang on, that is true! 
Nora Johnson's novels, Soul Stealer & The De Clerambault Code (www.nora-johnson.com)  available from Amazon in paperback/ eBook (€0.89; £0.77) and iBookstore. Profits to Cudeca