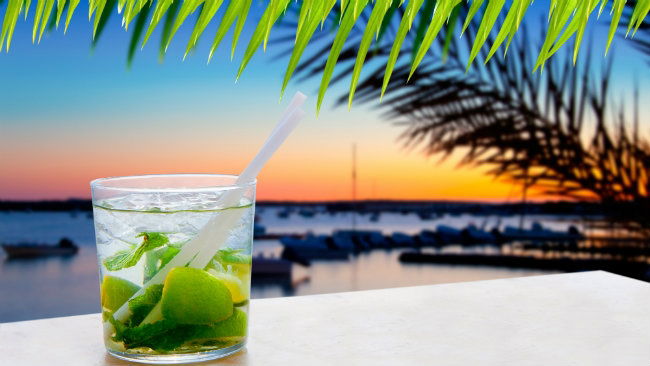 Magaluf! There, I've said it. As one of the most hotly debated venues in Spain this year, I decided to engage in a wee social experiment to see what all the fuzz is about. 
This notorious Mallorcan seaside resort actually boasts a stunning white sandy beach, with plenty of space and a glorious turquoise sea. The typical tourist here shuns sun lotion and favours food of the deep-fat fried variety, but there is also a surprising number of the fit and fabulous. 
Officials are, apparently, toying with the idea of renaming it to Nova Calvia to shake off unfavourable connotations and revamp it into a super-resort. Danger in many shapes does lurk in Magaluf, and I considered bringing a hardhat to elude 'balconers'.  
For the uninitiated, 'balconing' is the modern equivalent of Russian roulette and involves jumping from a balcony into a pool – or concrete slabs if unlucky, depending on levels of intoxication, leaving many dead, police and hoteliers horrified and the rest of us mystified. 
On this occasion, the skies were clear apart from the odd low-flying plane advertising the megaclubs such as BCM and Mallorca Rocks, but the day was young and we had many Magalufian experiences ahead of club time. 
WaveHouse is a recent addition – a chance for punters to try surfing or boarding in a controlled environment. Lots of fun – with only one A&E visit – but the suspected broken rib was merely bruised – alongside the ego. 
By lunchtime, Magaluf is in full swing – there is really no need to bring a book –  you can while away the hours reading charming tank-top slogans, such as "On it 'til we vomit" and "All in favour of viagra, please rise". 
Sausages and beans are no longer the mainstay here; for the more discerning diner, you need only head to the brand new Nikki Beach where dishes range from sushi to sexy salad (their term) and chateaubriand. The bill will be about the same as most punters paid for their package holiday, but target clients arrive on yachts or in Bentleys, though some -seemingly – leave in police cars. During our late lunch, one man (allegedly a well-known, local restaurateur) punched the lights out of another leading to a swift invasion of scores of police… I had expected to witness the odd drunken fight that day, but not here.
After lunch, we swerved the banana boats on the beach in favour of the upside-down house Katmandu, with its 4D cinema and stomach turning games and rides. Worth a visit but best go before, not after, lunch as we found…
Finally, we were ready for the pièce de résistance – BCM Planet Dance. My little troupe was excited to see brilliant singer Jessie J: We were fashionably late at 8pm, but JJ kept us waiting until 11pm before appearing – four songs later she jetted off to a similarly brief appearance in Ibiza
All in all it was a curious sort of day, not devoid of danger. One to be recommended or repeated? Sure, just top up your insurance policies first.