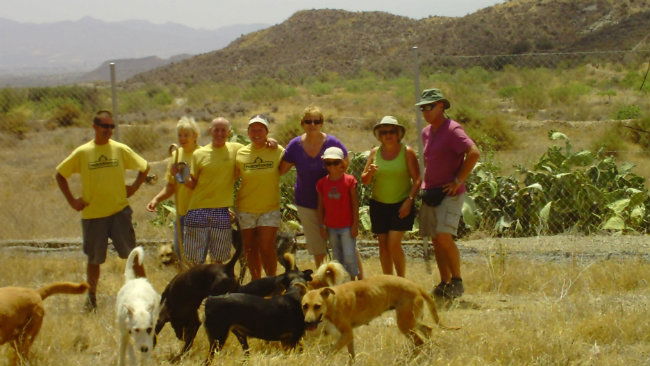 THE DOGHOUSE dogs in the Huercal-Overa area have a brand new home and play area.  With the help of a UK school's head teacher and pupils, more than €500 was raised to buy sheds and other much-needed materials for the foundation.  Paul Tighe, who runs the Doghouse said he was really thankful for Anita Warwick's support and that of her Uplands Primary School pupils.  The children from the Sandhurst school have designed and printed special Doghouse charity Christmas cards which are already on sale.  
The inauguration took place during the Play Day on July 28.  These are held on the last Saturday of every month.  British people of all ages came to walk and groom the dogs, and generally socialise with them.  There was a prize word-puzzle to win a bottle of bubbly.  The answer sheets are to be handed in at the next Play Day on Saturday September 1.  Paul and his volunteers said they would really love to see more EWN readers there.  They invite people to bring a ball or squeaky toy and help teach the dogs how to play, as some of them don't really know how.  
Unlike more traditional animal shelters, the Doghouse dogs are not kept in individual kennels or pens.  They are free to run around and live as a canine community within a fenced-in piece of land.  They can choose their own playmates while staying safe and being well-fed.  Some visitors questioned whether the fences were really necessary as none of the dogs seemed to want to leave the centre.  The new wooden sheds have open doorways and provide shade and comfort.  Paul said he would love to be able to put in a shallow paddling pool and plant some strong shade-trees.  
Up until opening the new living quarters adjacent to his house, Paul was sharing his home and patio with more than 80 abandoned and in some cases abused, dogs.  Now that they have their own space, he will renovate a room in his house, for a volunteer to live there.  He plans to offer board and lodgings to a gap-year student with a driving license in exchange for a desperately-needed helping hand.
For more information about the Doghouse and dogs looking for good homes, see www.thedoghouse-huercal-overa.webs.com.  To provide materials, construct a pool, fundraise, do the charity puzzle, or get directions for the Play Day, e-mail thedoghse@hotmail.com.