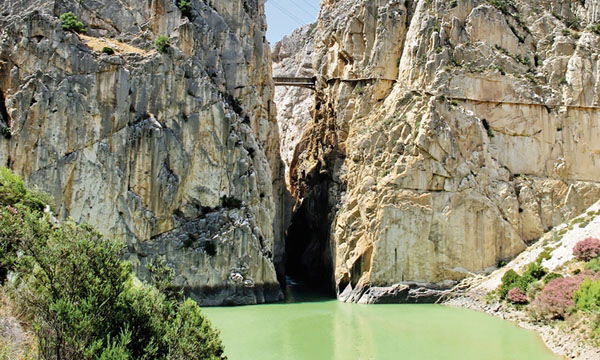 PLANS to start work on a €5 million reovation of the 'Caminito del Rey'  have been delayed. Malaga Provincial Government has withdrawn the €980,000 it planned to provide towards the cost of renovating the world-famous attraction, tagged by many as the 'Walkway of Death'.
This happened after it became apparant that the Junta de Andalucia, which was supposed to provide an additional €4 million towards the renovations, had not included work on the walkway in the Alora Lake District in its 2012 budget.
The Vice-President of Malaga Provincial Government, Francisca Caracuel, said: "With the current need to boost the economy and send money to Malaga's towns, I can't let €980,000 stay in a drawer and lose it next year." She claimed that this is what happened last year, when the Junta also failed to provide money.
She said it was important to invest the money in projects which can be carried out rather than lose it. Caracuel said that the Caminito del Rey is an 'emblematic' project which will benefit Alora and Ardales and that the provincial government will ask the Junta for further funds.
Not only that, Caracuel commented, but the area is dangerous, and four people have died there climbing in the past three years. The Caminito del Rey has become known throughout the world for its extreme danger, and although it has been closed to the public for years, many climbers continue to risk their lives on the walkway. Construction of the Caminito finished in 1905 and it was inaugurated by King Alfonso XIII but is now in serious disrepair.