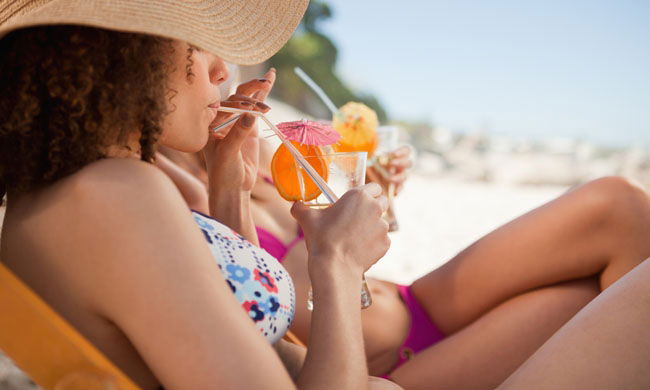 ONCE upon a time, we were content with a plastic sun lounger, a Piña Colada, and a good book, but these days – it seems – one does not venture onto the beach without a cabana at some swish club, with Jose booked for a massage in the open air and David Guetta's latest pumping through the sound system.
No rubber duckies to disguise the Michelin tyre here and all the spray tan in the world will not save you from the judging stares of your fellow day-bedders. Nighttime clubbing is so passé; welcome to the beach club. 
In the name of serious journalism, I have recently gone deep undercover to sample just a few of the hundreds across the Peninsula and the islands. All for you, dear readers. 
Blue Marlin: Delicious and eclectic menu, delectable ambience and full of beautiful people bronzing and partying to top tunes. VIPs and mere mortals are allowed to tread in the same sand, in stark contrast to some of the other clubs. The moment I succeed in obliterating my oblique tyre I, too, shall be donning my bikini and raffia straw cowboy hat at this winning Ibizan venue. 
Marbella Club: A relaxed, yet elegant club on the beach of this top hotel; with a sumptuous spa at its side, it is easy to while away the day here. 
Mood Beach: Surely the hardest working beach club, with more events and activities than you could shake a rhythm stick at. Striking distance from Puerto Portals, it is also a lunchtime favourite throughout the year – even kids will enjoy this one, as they can pop over to the slide at Kali Beach next door should parental tanning become too tedious. 
Nassau Beach: The Portixol outpost is a smaller, but welcome version of its all-encompassing Ibizan sister, which remains a destination beach club. As close as you can get to a Palma beach club, but really more of a glamorous restaurant with a few loungers thrown in for good measure. 
Nikki Beach: Strictly for those who believe that the credit crunch is a new type of breakfast cereal. It is a great spot to flex your financial muscles, since even the VIP sections are tiered at this International club. It will no doubt be a huge success, even in the interesting new location of Magalluf. 
Puro Beach: One of the originals, although lazing in the Balearic sun is often reserved for its Palma hotel guests. Ticks all the boxes, but now faces stiff competition from the many newcomers.
Roxy Beach. Not strictly a club, but it has an enchanted position on Playa Portals and the loungers are available with even the smallest bar order. A bit like 'Cheers' on the rocks – friendly faces and everybody knows your name.  Just keep it a secret!  
Still loathe to splash out a bundle on the beach? How about opening your own little beach-, pool-or paddle-pool club? Dump a truck full of sand in your garden, stick your iPod in the dock and roll out those plastic sunloungers, then charge your friends an obscene amount of money for your efforts.  Make the most of it, though, as they are unlikely to come again – even if you throw in a Piña Colada.