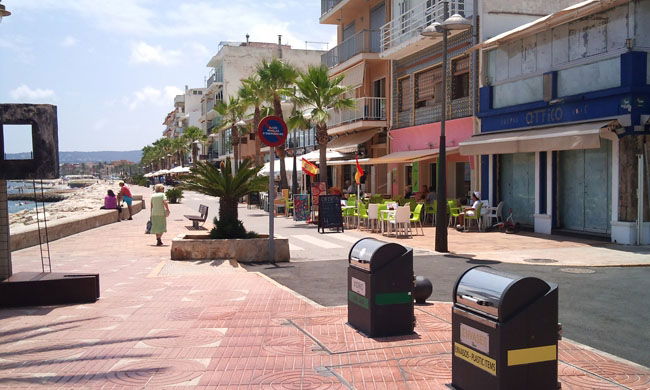 By Benny Davis
Javea is feeling the consequences of an edict issued last year forcing them to remove tables and chairs from outside bars and restaurants situated in the popular port terrace area.
The edict was issued in May 2011 by the controversial department "Ley de Costas" (Valencian Coastal Law). 
In direct response, around 800 protesters attended an organised sit-in organised by local resident Phil Harding, who demanded an open council meeting on the subject involving representatives from both public and business sectors. The town hall responded by saying that they were not in a position to challenge Valancian Law and the meeting never happened. Shortly after the event, Javea port beach was awarded a Blue Flag for cleanliness, which includes the accompanying land facilities.
One year on, according to a report from the still caring Phil Harding, the port 'paseo' is a sad reflection on its former glory. Gone is Attica Restaurant, the cornerstone of the beachfront walk, now closed for the past five months through lack of passing trade. Other bars and restaurants are "just about holding on," hoping for a summer financial revival to take them through the winter, which unfortunately, as our photograph shows, is not happening. Elsewhere in Javea, bars and restaurants are sharing mixed fortunes within the same regulations. The popular 'Jewel in the Crown' Arenal beach promenade again is totally restricted from placing any furniture one millimetre outside their designated areas, but permission was granted for bar terrace extensions to be built along the adjacent service road, drastically reducing valuable beach parking facilities. At the same time, the nearby Parador Hotel had its sea front parking facilities banned when the council installed a series of posts blocking the area which caused serious problems for hotel guests. Within a short period of time, outside pressure was applied and they were removed. In an exclusive interview, Phil Harding said, "Javea Council has made many improvements to the locality since they took office. It is now time Mayor Chulvi and his team recommence negotiations with the Authorities on behalf of residents, tourists and local business to return the port tables and chairs as quickly as possible to get these business back on their feet and allow residents and holidaymakers alike the pleasure of enjoying a relaxing glass of vino while overlooking our beautiful Mediterranean sea." If you have any opinions on this subject, Mr Harding can be contacted through; [email protected]