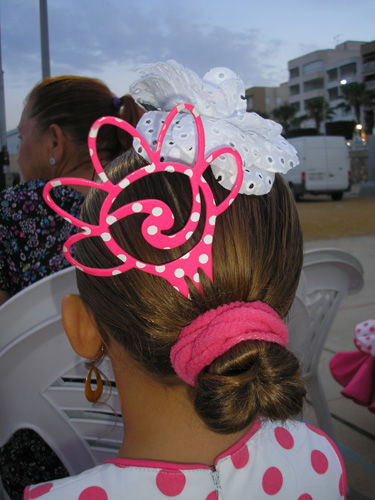 THE festival Season is here again. Here what to expect over the next couple of weeks. As usual, please be reminded that schedules provided by town halls are notoriously subject to change.
• Vera's annual fiesta starts on Friday June 8 at 5.30pm with a traditional parade of "giants and large heads."
The celebrations will continue into the evening and include the statue of the Virgin being carried through town.
At 10pm there'll be live music and dancing with the Arco Iris (Rainbow) band in the Main Square.
From Saturday 9 at 12pm there'll be music and bars set up in Vera's Main Square.
If you prefer something different, then drive up to Cabrera for their annual fiesta, also on Saturday.
It may be smaller, but it promises to be a fun, friendly and colourful affair.
In Vera At 7pm there's mass at the parish church to honour their patron Saint, the Virgin de las Angustias.
Then there's a procession through town starting at about 8pm from the Main Square, going down the Main Street, continuing through Vera and finally ending at the Virgin de las Angustias Square.
The party in the Main Square on Saturday night starts again at 10pm and will include some Flamenco music.
On Sunday 10 there will be another mass at 7pm followed by the Corpus Christi procession.
Then at 9pm there's a performance by elderly people in the main square to get you in the mood for dancing again from 10pm onwards.
• A few days later the 24th annual Moors and Christians fiesta begins at 12 midday on Friday June 15, in Mojacar Pueblo, with a medieval market.
The festival commemorates the re-conquest of Mojacar more than 500 years ago.
When it started in 1988 only two Moorish groups participated, but this year there will be four Moorish and three Christian groups.
On June 15 at 9.30pm the Moors and Christians groups will meet in the Salon de Usos Multiples, and at about 10pm they'll arrive at the public drinking water fountain (La Fuente).
There, the Moorish king will hand over the town's key to the Christian king.
The festivities will continue until the early hours with street entertainment, dancing and fireworks.
On Saturday 16 at 4.30pm the celebrations will start again on Mojacar Beach, opposite the Provenzal Hotel.
There'll be horse shows and belly dancing and the Moors and Christians will march to the shopping centre (Parque Comercial).
On Sunday 17 the fun begins at 12pm midday on Mojacar Playa.
Don't take your dog with you to any of the beach activities because there'll probably be constant loud gun shots and music.
Wear a hat and sunblock and drink a lot (water of course). Don't miss the final, procession in Mojacar Pueblo at 7pm.
• The biggest party of the year in some Almeria coastal towns is San Juan (St. John) night, June 23.
This year it falls on a Saturday and families and groups of friends will go to the beach from late afternoon onwards for picnics, barbecues and all night celebrations.
It is said to be good luck to take three steps backwards into the sea at midnight on San Juan and to write a wish on a scrap of paper and throw it into the fire.
It's the only night of the year when barbecues and campfires are allowed on beaches in Almeria, and sardines are the traditional fayre.
Some town halls require you to get a permit from them a few days before San Juan.
Some towns put on free public barbecues, live music and firework displays.
Don't forget to send information about any other events in your area to s.leach@euroweeklynews.com
By Susan Leach
s.leach@euroweeklynews.com