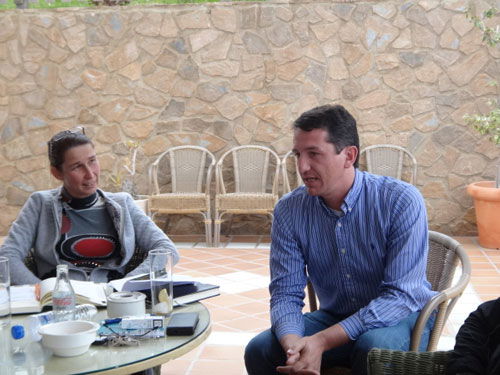 THE first ACEM (Mojacar Business Association) meetings with Mojacar Tourism Councillor was held at the Puntazo Hotel on the playa.
Representatives from a multitude of different types of business were in attendance.
High on the list that many wanted to discuss with Emmanuel Agüero Leclerc, Mojacar's Tourism Councillor was the police presence in the town over the summer and the new rules in place concerning the closing hours of bars and restaurants.
The general consensus was that thr 'Spring Break' had passed without serious incident and the heightened police presence had certainly played its part.
Although too old to be a raver myself I did send a much younger member of staff to the venues to take photographs for our Facebook page (Spectrum Almeria) and judging by these and the comments everyone was having a good time.
This was certainly a view echoed by some of the beach bar owners at the meeting and at off peak times of the year it is a pleasure to see Mojacar buzzing again.
The heavy police presence certainly helped quell the rowdy element once they had left the venues and local residents were mainly spared the noise of the 'botellones' (basically groups of young people drinking, shouting, urinating in public and playing loud music).
Most association owners were worried about a heavy handed police presence during the summer scaring tourists away instead of welcoming them.
The councillor listened intently and agreed with the grievances and promised to put the points forward.
The matter of closing hours for the bars was a different kettle of fish.
For those who don't know under new regulations all bars/restaurants (whether they play music or not) must close at 2am in the week and 3am at weekends.
Now this may sound late enough to residents like me but for a holiday destination it amounts to professional suicide for the swelling of their tourist fed coffers.
And I can see the point.
As Rosa from Lola BBME's commented at the meeting ' Do you think the bars in Benidorm, La Manga and Marbella shut at 2 o'clock in the morning!' The nightclubs in the area can stay open until 6am and these include Mandala, Lua, Momas and Liquid.
The bar owners were really after weekend hours (ie 3am) for the entirety of August as a minimum and although the councillor said that there may be a little leeway, these were the new laws and should be obeyed.
Any Mojacar Business owner who is not a member of ACEM can pay six euros a month to have a direct line to the town hall, a support network for problems you may be experiencing and free legal advice.
Together we stand, divided we fall.
Email [email protected] for information on membership.
By Richard Shanley