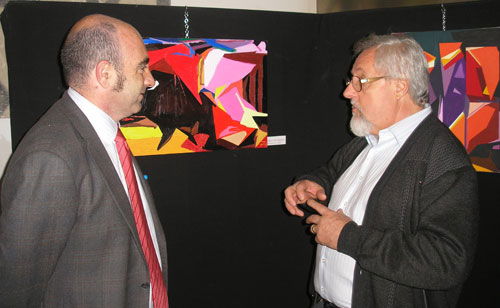 AN ART exhibition by Hungarian born painter Viktor Deli, entitled "In love with Colours," opened on Thursday April 12 in Vera.
Thirty six of Deli's paintings are now on display to the public free of charge at the Convento la Victoria in Vera's historical centre.
Vera town hall representatives were among more than 30 people who attended the official opening ceremony at last Thursday evening.
The Councillor for Culture, Maria Manuela Caparros congratulated Deli on his wonderful, colourful exhibition, and along with other visitors and friends, toasted the painter's success with cava and canapés.
Sixty six year-old Deli, accompanied by his wife Kristina, said that he was very happy that his first ever exhibition was in Spain, and especially in Vera.
He explained that the Andalucian light, and colours of his Vera Playa garden motivated him to start painting full-time, and thanked the town hall, friend and agent Javier, and journalists for their continued support.
The painter then explained the origins of some of his work to Caparros, councillors Mariano Estecha and Jose Fernandez, friends and other visitors.
The latest exhibition piece had only just dried in time for the opening.
The painting, "Death in the afternoon," a semi-abstract bull-fighting piece influenced by Hemmingway's book (Deli's favourite author) was admired by visitors for its vivid colours and strong motifs.
The exhibition is on in Vera until April 27.
Contact the painter at viktor.akos.deli@gmail.com, and see more of his work at Viktor Deli on Facebook.
By Susan Leach
s.leach@euroweeklynews.com