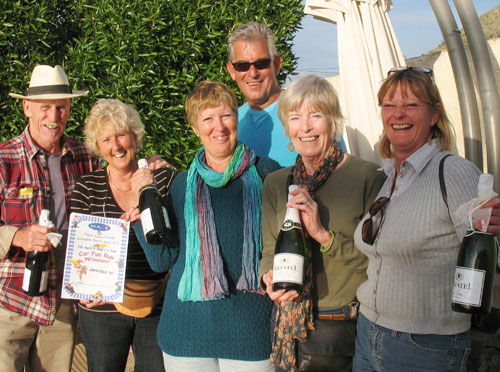 A CAR rally treasure hunt raised €485 for the MACS cancer charity.
More than 50 people, in 15 cars took part in the 100km rally which started and ended in Turre recently.
Participants drove through Zurgena, Alfoquia and other villages, making tapas stops en route.
There was a quiz on Spanish history, geography and culture included in the directions, and a limerick writing contest.
Organisers Jean Macpherson and Maggi Lake included some April fools day jokes in the instructions, asking for photographic evidence of silly walks, and getting people to search for the Umbigumby bird.
Some 'ralliers' brought feathers which they claimed belonged to the bird, to the meal at the end of the hunt, which was held at Ann and Andy Webber's home, Las Tres Ruinas.
Tim Boyd, Paula Antony, Jan Mills and Pat Noble (the Turrets team) won first prize.
MACS volunteer Wayne Claridge said that it was a really fun and successful event, and thanked the organisers and participants for their enthusiasm and efforts.
There will be a fashion show in aid of MACS at the Vera hotel on Sunday April 22. For tickets (€5), and more information, call Margaret on 620 534 423.
By Susan Leach
s.leach@euroweeklynews.com