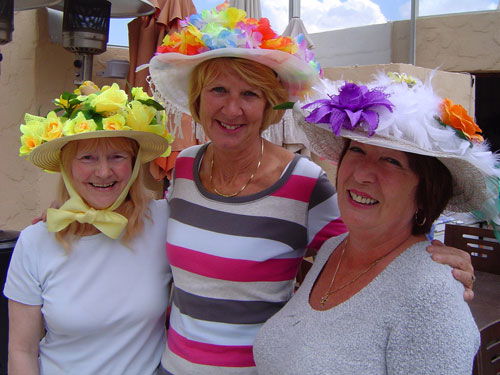 THIS year Eleanor and Gilly's Line Dance Classes held two Easter Bonnet Parades.
The first one was held at the Bar El Molino in Santopetar on Maundy Thursday and the second one was held at Bar Rumores in Albox on Easter Monday.
At Bar El Molino it was the inaugural Easter Bonnet Competition and it was won by Alice Bradbury with Pat Skinner and Elaine Tomlinson.
At Bar Rumores it was the Fourth Annual Competition and it was very well supported.
The eventual winner was Margaret Jones with Lyn Williams and Pat Perrin as the runner ups.
Once again, there was a high standard of bonnets on display and the independent adjudicators at both parades had a great difficulty deciding which were to be the winning bonnets.
In addition to the Easter Bonnet Parades, all the Line Dance Class Members, in both Bar El Molino and in Bar Rumores received an Easter Egg and in Bar Rumores a Raffle was held to bolster funds that this particular group intends to donate to F.A.C.E. (Fundraising in Arboleas, Caring For Everyone) later in the year.
They have now raised over €200.
Both Line Dance Classes are operated by Eleanor Tolman and Gilly Elliott-Binns.