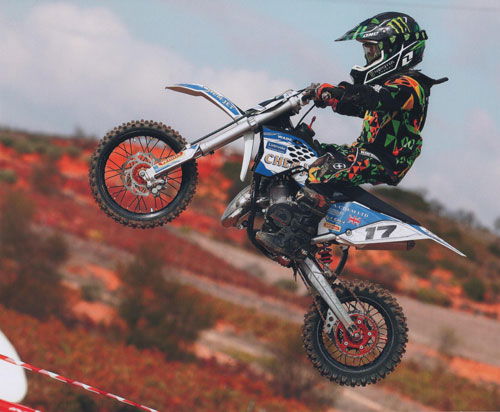 EDDIE WADE of Los Gallardos got his first electric motorbike when he was two and a half.
He had a quad bike when he was three and a half, and once fell asleep out of pure exhaustion while riding his electric bike.
In February 2012, he moved up to second place overall, in the Valencian motocross championship, racing against ten and eleven year olds.
On April 1 he came 5th in the Benicarlo motocross, despite getting a puncture.
Eddie is eight years old. Parents Sharon and Phil, originally from Sheffield, moved to Spain in 2001 because they were fed up with the nine-to-five lifestyle.
They'd just finished building their dream-home in Braithwell, Doncaster when they decided to leave the UK for Spanish soil.
"It was quite sudden," said Sharon, "and ironic really because we'd just finished our house."
Eddie was born two years later, and "there's not been a dull moment since," said Phil who loves spending time with his son, and looks forward to him coming home from school.
In 2011, Eddie started the season on a 50cc motorbike, competing in Spanish races, and in the UK, but he was "so far ahead of the rest of the riders that he wasn't really learning anything."
He became frustrated, especially when the bike had mechanical problems.
"Every time I was winning it kept breaking down," he told the EWN reporter, so he moved up to the next class onto a 65cc bike, a year early.
He had to get a special licence to race as he was technically underage.
He came first in several of the YMSA championship rounds in the UK in summer 2011.
Then, in November 2011, Eddie joined forces with trainer and six times Spanish motocross and supercross champion, Paco Rico.
He became the youngest member of a group of some of the fastest riders in Spain and has been offered places on teams, but his parents think he is still too young for the pressure.
They don't want him to miss school.
Phil said that whether or not his son makes a career out of racing, the most important thing is that Eddie enjoys it, and gets a good education.
Eddie showed the EWN reporter more than 40 trophies and medals at his home in Los Gallardos, and said that he also loves running, snow-boarding and ice-skating.
Sharon said she is very happy with her son's Antas school, and that he is especially good at maths. Both parents realise that as far a racing is concerned, he has time on his side, and said that when the time is right he'll be ready to join a team.
He'll be taking part in the Spanish Championship round on the April 29, in Pontevedra, near Portugal, and the family plans to go to the UK for the Redbull Elite and ACU championship in the summer.
They'll also go to visit Eddie's favourite place; Alton Towers.
Do you know a local Almeria resident with an interesting background? Write to Susan Leach at s.leach@euroweeklynews.com