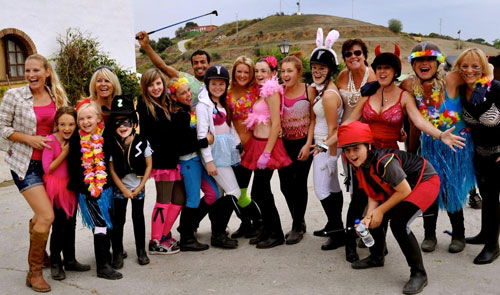 DESPITE the weather, the sponsored ride and Fun Day for Tomas Leighton Care Charity was a success, raising almost €4,000.
From 11am, a group of adults and children wearing their underwear on the outside, rode from Finca Alegria through La Cala de Mijas, much to the astonishment of onlookers.
Upon return to Finca Alegria at around 4pm, the party started, and was well-attended by people of all ages wanting to show their support for seven-year-old Tomas, who has cerebral palsy and is almost totally blind.
The fun and games went on for several hours, during which there was also a man auction, in which local men offered a variety of services for this good cause, which was a huge success.
The Egyptian Tarot readings also proved to be very popular.
Tomas and his family would like to thank everyone who attended and made the day such as success.
The next event for Tomas will be a sponsored walk from Los Alamos, Torremolinos, to Benalmadena, on May 13, contact Ellen on 611 607 607 for information and sponsorship forms.
For more information, visit www.tlc-charity.com or the Facebook page 'Support Tomas Leighton'.
Photo credit: Eva Brown Tislova