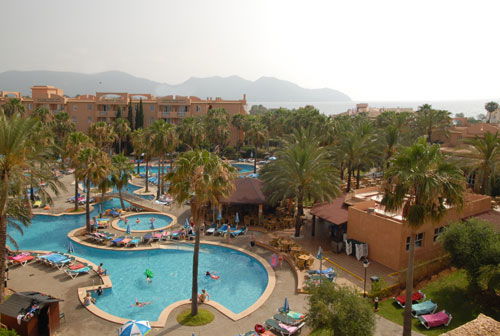 NINE Mallorca hotels are in the top 10 hotels for families in Spain. Five other hotels on the island are in the top 25.
This was revealed in Tripadvisors Traveller's Choice Hotels for Families 2012.
The list is created based on the opinion of millions of tourists who have travelled with their families. Protur Bonair Aparthotel in Cala Bona was voted the best hotel.
Aparthotel Playa Mar in Port de Pollença and Coma Gran Aparthotel in Sa Coma took second and third place. The only non-Mallorcan hotel in the top 10 is Aparthotel Golden Avenida Suites in Salou, south of Tarragona, who came fourth.
Three Mallorca towns were popular with three hotels each on the list.
Apartamentos Cala d'Or Playa in fifth place, Inturotel Sa Marina & Es Sivinar in 11th and Hotel Skorpios in 16th place are all in Cala d'Or. In Alcuda, Iberostar Cuidad , Iberostar Alcudia Park and Viva Sunrise in seventh, eighth and ninth places respectively.
Together with the hotel to make third place, Protur Vista Badia Aparthotel coming 10th and Protur Sa Coma Playa Hotel and Spa 25th are in Sa Coma.
The remaining three hotels on the island are Viva Palmanova in sixth place, Prinsotel La Dorada in Playa de Muro in 17th and Grupotel Gran Vista in Can Picafort in 24th.
Two Ibiza hotels made the list including Invisa Hotel Ereso and Intertur Hotel Hawaii. Five hotels in the Canary Islands made it into the top 25 top Spanish hotels for families.
Other hotels on the list include the Marriott's Marbella Beach Resort, Apartments Restaurant Hispanos 7 Suiza in Barcelona and Terralta Apartments in Benidorm. Meanwhile, of the top 25 hotels for families in the world, four are in Mallorca.
They are Protur Bonair Aparthotel in Cala Bona in fifth place, Aparthotel Playa Mar in Port de Pollença in eight spot, Coma Gran Aparthotel in Sa Coma in 11th and Apartamentos Cala d'Or Playa in 22nd spot.
Treasure Island Resort and Holiday Park in Australia came first followed by KeyLime Cove Resort and Water Park in Illinois (US), and Rocking Horse Ranch Resort and Hope Lake Lodge & Conference Centre, both in New York. Four Mallorcan hotels made it onto the Top 25 Hotels in Spain list.
They are Gran Sol in Cala Bona in ninth place and Inturotel Sa Marina and Es Sivinar in Cala d'Or in 10th place, while Protur Sa Coma Playa Hotel & Spa came 14th and Protur Biomar Gran Hotel & Spa, also in Sa Coma, in 16th place.
According to the results of a TripAdvisor survey carried out with 627 Spanish tourists, family holidays are the most popular in Spain, with 45.3 per cent of the total.
Most Spanish families take one or two holidays per year, and there are between two and four members.
Most of them travel to beach locations.
By Nicole Hallett