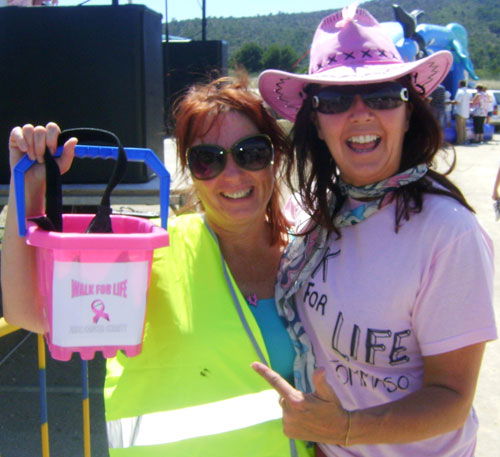 ON Sunday April 8 hundreds of people will gather to take part in the third annual "walk 4 life" sponsored walk in aid of the AECC cancer charity.
This year the walk will start at 11am at the new Diner Max restaurant (used to be Roosters fish n chip restaurant in Magalluf) and take a circular route through Magalluf to the seafront then to Palmanova and back to the diner.
Bacon sandwiches will be available before the walk and afterwards there will be a free afternoon concert featuring many of the island's local performers including EWN columnist Leapy Lee, Martin Diaz, Vinnie Scott, Graeme Dee, Storm, Ronan Leonard, Jerri Rouw and Spectrum FM's Jon-Paul (JP) Bradshaw.
The rest of the Spectrum FM team will also be present as one of the main organisers of the event is Laura Penn, the Spectrum FM Breakfast Show presenter.
"Back in 2010 Linda Ledwidge and I organised a little walk to support our friend Jenny Colville who was suffering from cancer." says Laura.
"Sadly Jenny died shortly after the walk and now we walk in her memory. My dad also died of cancer so I am also doing the walk for him.
So many people have been affected by cancer, either personally or through someone that they know that they want to take part in the walk as a way of honouring those who have passed and supporting those who are fighting the illness now.
That is one of the reasons that we are delighted to that Jo Ryan has accepted our invitation to officially start the walk for us this year."
This time last year Jo, from Pollensa, was having treatment for breast cancer.
Residents in the north organised various fundraising events but Jo was too ill to take part in the "Walk 4 Life".
Last autumn she was given the all clear and on Easter Sunday she will cut a pink ribbon to start this year's event. Other special guests at the event include representatives of Calvia council and the newly appointed Assistant Managing Director of the Centro Baleares Europa, Kate Mentink who will make a short speech on behalf of the Balearic Government.
Along with musical entertainment there will be stalls at Diner Max representing the AECC, the Cancer Support Group and the Amiticia charity.
There will also be games for young and young at heart including a Lucky Dip, an Easter Egg Tombola and "Penn´s Ping Pong Challenge" with great prizes on offer including rides on attractions and meals for two at various local restaurants.
The "Radio Rabbit" will also make a welcome return to the walk following his success at fundraising last year and he will have an egg hunt for the kids afterwards.
Last year the event raised just over €2,000 for AECC.
"We know people are watching their euros" says Laura
"Which is why there is no fee for taking part in the walk. YOU can literally not spend anything and just come and join in.
But if you have €1 to buy a bacon butty or a beer, the money will go to people who help with cancer right here on Mallorca.
Around 200 people joined the radio team last year and this is the first year that Spectrum FM, with its corporate colours of pink, has sponsored the event, so we hope even more people will come along on the day and have fun whilst helping others.
For more information or to get a sponsorship form email laura@spectrumfm.net